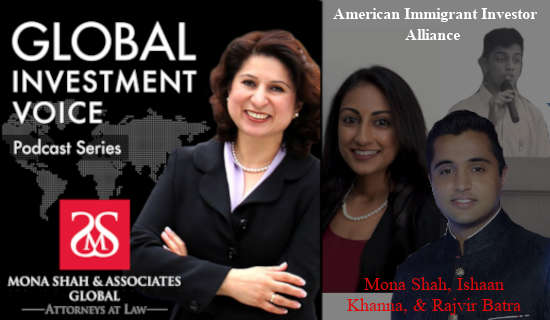 American Immigrant Investor Alliance – Episode 146
Immigrant investors are the backbone of the EB-5 community, and it is long overdue for them to have a seat at the table. In this episode, Mona and Rebecca speak to Ishaan Khanna and Rajvir Batra from the American Immigrant Investor Alliance (AIIA), the first by-investors-for-investors organization which seeks to bring a new voice to the discourse. Learn about how AIIA uses extensive outreach within the immigration and investment communities, government administrative agencies, Congressional leadership, and other stakeholders to push for policies that benefit investors. Ishaan and Rajvir also comment on the Alliance's long-term goals, priorities, and ways to get involved.
American Immigrant Investor Alliance
The American Immigrant Investor Alliance (AIIA) was founded in April 2021 as a Washington D.C.-based 501(c)(4) non-profit to provide a voice and representation on behalf of investors. As an organization whose sole focus is on EB-5 investors, both that are resident in the US and those awaiting their petitions to be adjudicated outside the US, AIIA strives to be the single authoritative investor-focused advocacy organization representing interests of all EB-5 investors.
Ishaan Khanna
Ishaan Khanna is the Director and co-founder of the American Immigrant Investor Alliance. He invested in EB-5 in 2016 and started working in the EB-5 industry in 2018.
Rajvir Batra
Rajvir Batra is currently an undergraduate student at Harvard University studying Economics and Government. At AIIA, he serves as the Policy Director, focusing on legislative priorities and the Alliance's Congressional outreach.