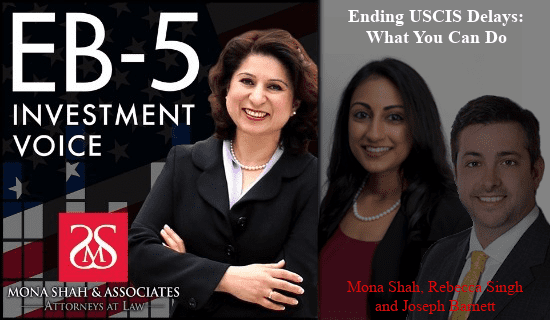 Ending USCIS Delays: What You Can Do – Episode 133
As the new administration took office on Jan. 20, 2021, President Biden began enacting his agenda to reform the immigration system. Unfortunately, USCIS continues to portray exceedingly slow adjudication and response times, with new and worsening delays over the past year. On this episode of EB-5 Investment Voice, Mona Shah and Rebecca Singh are joined by Joseph Barnett of Wolfsdorf Rosenthal LLP to discuss the trends we are seeing in USCIS delays and how this affects people in their day to day lives. Listen in to hear what you can do to compel USCIS to end the delay and get moving!
Joseph "Joey" Barnett is an attorney of Wolfsdorf Rosenthal LLP, a full-service immigration law firm with thirty years of experience providing exceptional quality immigration services. He represents immigrant investors seeking permanent residency in the United States through USCIS-designated Regional Centers and investment in their own businesses. Mr. Barnett specializes in assisting developers establish complex corporate and financing structures for EB-5 capital and is responsible for a variety of immigration matters, including temporary work U.S visas and employment-based petitions, administrative appeals, and federal writ of mandamus lawsuits. A prominent EB-5 blogger and author, Mr. Barnett has been published in Who's Who Legal; American Immigration Lawyers Association journals; EB-5 Investors Magazine; EB-5 Supermarket Magazine; and the NES Financial eBook.
---
Egregious and Unreasonable Delays
While USCIS has never been known for speedily adjudicating immigrant petitions, the delays we are seeing now are particularly shocking. Receipt notices, for instance, are customarily issued by USCIS within two to four weeks after filing. Often an individual's employment, ability to travel (both domestically and internationally) and ability to receive a driver's license extension are all contingent upon providing proof of filing in the form of a receipt notice. Rebecca, Joseph and Mona discuss how, for the first time in their lives, they are seeing receipt notices being issued by USCIS eight to twelve weeks after filing!
.
What Can Be Done?
Often your attorney will check to see if the filing fee (via check) that was sent to USCIS has been cashed, as this can be used to informally confirm the filing was accepted by USCIS. However, USCIS is showing delays in even cashing the checks, sometimes up to three months! In this new landscape, often the only evidence of USCIS's receipt of a filing is a FedEx or USPS confirmation of delivery.
An attorney may also attempt to schedule an Infopass appointment for an applicant, wherein they may receive an I-551 stamp in their passport. This stamp is customarily given upon an individual's entrance into the U.S. and provides evidence of conditional green card status, usually valid for one year. However, Rebecca is seeing stamps given by officers that last for far less time, as low as three to four months, with no explanation.
There is the option to call USCIS and speak to an officer directly regarding your delays, but Rebecca notes that it can take weeks to receive a call back from the Service, and often they are unable to provide any assistance. Joseph jokingly refers to the call center as "1-800-USELESS."
Unfortunately, many consulates are closed due to the pandemic, but we are seeing openings slowly and expect to continue to see this slow opening process throughout the year and into 2022. Further, the Office of the Citizenship and Immigration Services Ombudsman is an office within USCIS dedicated to improving the quality of citizenship and immigration services, however grievances are responded to after 90 days, which is often too long to wait.
Finally, mandamus petitions have become popular in recent years, especially for EB-5 petitioners waiting in longer and longer adjudication lines. These petitions only work in certain circumstances and often cause more harm than good. It is best to speak to your immigration attorney before filing a mandamus petition.
.
To request a consult with an immigration attorney regarding how you may be able to end the delays in your case, please contact us at:
Contact Form: https://mshahlaw.com/contact-us/
Phone: 212-233-7473
Email: info@mshahlaw.com