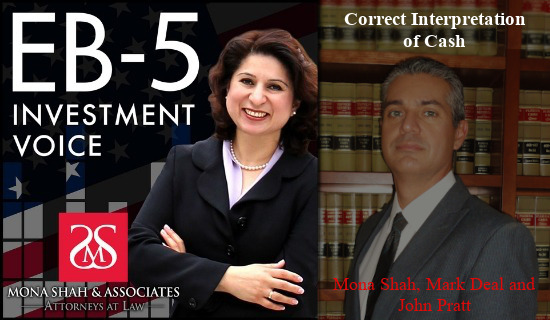 Correct Interpretation of Cash – Episode 129
BREAKING NEWS: October 27, 2020: Zhang v. USCIS decided in favor of the Plaintiff—a momentous victory for EB-5 Investors championed by Ira Kuzbaan and John Pratt. John joins Mona and Mark to discuss this victory against USCIS as well as other challenges.
The recent decision by the D.C. District Court has upheld a lower court's ruling that unsecured loans qualify as cash for EB-5 investment purposes. The appealed case, Zhang, et al. v. United States Citizenship and Immigration Services, et al., No. 15-cv-995 (D.C. Nov. 30, 2018) (hereinafter "Zhang"), was brought by EB-5 investors whose I-526 petitions were denied because their investment funds were sourced from uncollateralized loans. The Immigrant Program Office (IPO) based it's policy of denying petitions based on unsecured EB-5 loans using a novel interpretation of the term "capital" in 8 C.F.R. Section 204.6(f), concluding that capital obtained from a third-party loan constituted investment of "indebtedness" and not "cash".
In a similar step that currently remains unchallenged in court, USCIS has created a new policy based on its interpretation of 8 CFR 204.6 (g)(1) and recently began requiring that all capital invested into the New Commercial Enterprise (NCE) be sourced, whether from non-EB-5 or EB-5 owners. Such an interpretation does not promote domestic or foreign non-EB-5 investment and raises privacy concerns. 
John Patrick Pratt is a Partner at Kurzban, Kurzban, Tetzeli & Pratt, P.A., in Coral Gables, Florida. Mr. Pratt received his Bachelor of Arts degree from Florida State University in 1994. He graduated from Tulane University School of Law, receiving his juris doctor degree in 1997. Mr. Pratt is admitted to the bars of the State of Florida, State of New York, and the District of Columbia. He is also admitted in the U.S. District Court for the Southern District of Florida, U.S. District Court for the Middle District of Florida, U.S. District Court of the District of Columbia, U.S. Court of Appeals for the Eleventh Circuit, U.S. Court of Appeals for the Ninth Circuit, and the U.S. Supreme Court. He is a member of the American Immigration Lawyers Association (AILA). Mr. Pratt currently serves in the Board of Governors (BOG) of AILA, previously served as a Director of AILA, South Florida Chapter, 2003-2017. Mr. Pratt also previously served as President of AILA, South Florida Chapter 2010-2011. Mr. Pratt is AV Rated by Martindale-Hubbell and Florida Bar Board Certified in Immigration & Nationality Law 2005-2020. In addition, Mr. Pratt served in the Florida Bar's Immigration and Nationality Law Certification Committee 2006-2009. Mr. Pratt concentrates in all areas of immigration and nationality law, including corporate immigration matters, employment-based immigrant and nonimmigrant petitions, family-based immigrant and nonimmigrant petitions, deportation or removal, and federal court litigation, including complex employment-based federal court litigation. Mr. Pratt is fluent in Spanish.
---
For more information on the initial case and other issues regarding the sourcing of EB-5 funds, listen to our podcast Source of Funds Talk with he MSA Team at https://mshahlaw.com/source-of-funds-talk-with-the-msa-team-episode-86/