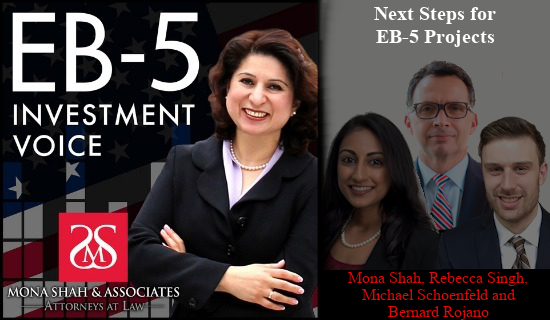 Next Steps for EB-5 Projects – Episode 128
While there has always been interest in direct EB-5 projects by investors hoping to double as developers, this option is more viable with the new EB-5 regulations, which require a minimum investment of $900,000. But what goes into preparing a successful EB-5 project? On this episode, Mona, Rebecca, and Mark are joined by Bernard Rojano and Michael Schoenfeld to discuss all of the moving parts associated with EB-5 projects, including job creation, Targeted Employment Areas (TEA) and why the regional center model, rather than the direct model, may work better for you. Listen in to hear why renting a regional center may be better than buying one, how much offering documents ordinarily cost and whether you should consider the use of an escrow account.
Bernard Rojano is the Founder and Principal Consultant at Xecute Business Plan Solutions. Founded in 2008, Xecute Business Plan Solutions is one of the oldest immigrant investment exclusive consulting firms. Bernard is considered one of the top, and most experienced EB-5, L1 and E2, business plan writers and immigrant investment business consultants in the U.S. Bernard and Xecute are endorsed and referred by some of the most respected professional firms in the industry. Bernard has provided expert opinion, business modeling and planning, mergers and acquisitions, project development and management consulting to many satisfied clients, including foreign investors, immigration law firms and U.S. project developers.
Michael Schoenfeld has extensive private equity investment, business diligence, management consulting, and entrepreneurship experience. Prior to EB5AN, Mike worked for AEA Investors, a leading middle-market private equity firm with $10B under management, focused on making control-oriented investments in consumer goods, industrial goods, and business services companies. He invested out of their prior $2.5B middle market private equity fund. Mike was previously employed by the Boston Consulting Group, one of the top management consulting and business strategy firms in the world where he worked directly with Fortune 500 Companies in the transportation, financial services, industrial goods, information technology, and real estate spaces. Mike is also a Forbes Magazine 30 Under 30 National Winner for Social Entrepreneurship. Mike holds a B.A. in Economics and B.S. in Business Administration from the University of North Carolina at Chapel Hill.
---