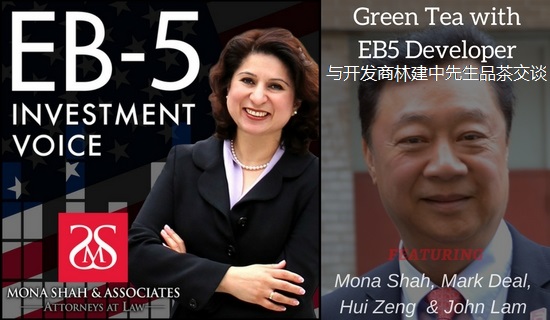 Green Tea with Developer John Lam (与开发商林建中先生品茶交谈) – Episode 24
We always make it a point to invite as many developers as we can to showcase different perspectives in the EB5 industry. For today's show, Mona Shah, Hui Zeng and Mark Deal sit down with premier developer John Lam to talk about how he started and what paved the way for his 30 years of success in real estate in New York.
With over 60 million tourists every year, New York City is a favorite destination for both domestic and international visitors in the U.S. The biggest challenge though is finding an affordable place to stay. John Lam realized this when he ventured into real estate in the early 80s. The real estate community is hard to penetrate, especially for someone from the Chinese community. But John was able to overcome all the challenges. Currently, his company has converted over 50 buildings in New York City alone. John Lam shares his beginnings, his achievements, and challenges he has encountered from the time he came to the U.S. in 1969, up to his current involvement with the EB5 industry.
.
John Lam's beginnings:
He came to the U.S. in 1969. In 1972, he ventured into the garment industry, starting with 3000 employees in his garment factories until he became the president of New York Garment Association with 35,000 members. His great contribution of long term employment creation for New York City was complimented by the Mayor.
In 1980, John ventured into real estate and bought his first building for a little over a million dollars. It is now valued at $70 million. During this time, most banks in Chinatown only gave loans amounting to $100,000 – $200,000. He understood that the amount may be sufficient to buy a residential home, but for any businessman who wants to make it big in NYC, that amount could not buy a commercial building. By 1985, cooperating with his friends, he started a community bank with the aim of giving loans to the people in the Chinese community.
in 1996, John bought his first hotel. He has built hotels for famous franchises like Sheraton, Marriott, and Hilton to name a few. John has developed over 28 hotels in NYC from the ground up. His hard work was recognized by the city when he started winning awards like Man of the Year, Developer of the Year, Best Service Award, Best Design Award and so much more.
.
Why New York City?
There are over 60 million people who visit New York City every year. Hotels in NYC average an 85%-90% occupancy, compared to hotels in other states with only around 65% occupancy. Aside from that, hotels in NYC charge 3-10 times more than other cities in the U.S.
.
EB5 involvement
John applied for licensing around 2012. Being a leading expert in the hotel industry, he saw the opportunity to bring good projects to the Chinese people via EB5. His first and second EB5 projects last 2013 and 2014 had 100% approval for 120 of his investors. However, for the third EB5 project, John encountered hurdles when USCIS doubted that his projects have no risks to the investors. To manage the rejections, a Motion To Reconsider was submitted to USCIS by Lam NYC EB-5 Regional Center. During the first quarter alone, of the 1864 investor cases that USCIS has received, 637 were rejected. USCIS is indeed evolving and getting stricter by scrutinizing every detail in each investors' application.
Because of the excellent credit and solid financial background of Lam Group, even the government has granted funds to Lam's current project in Harlem of New York. Some online slanders of "hot money" about Lam's project collapsed of itself without being attacked.
John already has projects 4 and 5 in the works. Regarding refinancing, John mentioned that whether the market is good or not, he always refinances because the banks he is connected with still backs him up and refinances his projects.

我们总是致力于尽可能多地邀请的开发商来此座谈,我们可以从不同角度来诠释EB5行业。在今天的座谈中,莫娜莎律师、曾晖律师和马克迪尔与顶级酒店开发商林建中座谈他是如何开始,并奠定他在纽约房地产业30年的成功道路。
拥有每年超过60千万的游客,纽约市是美国国内和国际游客最喜欢的旅游胜地。对他们来说,最大的问题就是找到一个负担得起的住宿的地方。林建中在他80年代初涉足房地产的时候就意识到了这一点。渗透房地产界是很难的,特别是从中国社区来的人。但林建中是能够克服所有挑战。目前,他的公司仅在纽约市已建成50座大楼。林建中分享他于1969年来到美国,一直到他当前运作的EB5行业, 他事业的开创、成就和他所面临的种种挑战。
创业之初:
> 他于1969年来到美国,1972年,他涉足服装业,起步时他的制衣厂雇佣3000工人,后来他成为拥有35,000名成员的纽约制衣协会的会长。他为纽约市创造长期就业的卓越贡献收到市长的赞赏。
> 1980年,林建中涉足房地产业,以稍多于一百万美元的价值买了他的第一个建筑。现在,它已经价值7000万美元。在那时,纽约唐人街大部分银行只能放贷款$ 100,000 – $ 200,000美元。据他了解,该数额可能只够买个家居住宅,但想在纽约发展的商人,这个数字还有可能买不到一幢商业大厦。到1985年,在与他的朋友们的合作下,他开创了社区银行,目的是为中国社区的居民提供贷款。
> 1996年,林建中买下了他的第一家酒店。他逐渐建成了著名的特许经营权酒店,如喜来登,万豪,希尔顿酒店等等。到目前为止,他在纽约市开发的28家酒店已经拔地而起。他的辛勤工作得到纽约市的认可,荣获年度人物,年度开发者,最佳服务奖,最佳设计奖等等。
为什么纽约市?
> 每年有超过6000万人到访纽约市。酒店在纽约市平均入住率为的85%-90%,相比而言,其他州只有65%左右的入住率。除此之外,纽约市的酒店比美国其它城市收费高出3-10倍以上。
启动EB5项目
> 林氏集团于2012年开始申请EB5的官方授权。作为酒店业的权威专家,林建中·看到了机会,通过EB5带来良好的项目给中国人。他在2013年和2014年第一和第二EB5项目,120名投资人100%获批。然而,对于第三个EB5项目,林建中遇到障碍,移民局质疑他的项目对投资人缺乏风险性。为了反驳这个否决意向,林氏纽约EB5区域中心已经向移民局提交了动议重新考虑的诉求。实际上,移民局仅仅在2016年第一季度,就收到1864份申请,否决了637份,移民局在不断调整并更加严格地审查每个投资者申请中的细节。
> 林氏目前已经在进行第4和第5个项目。至于再融资,林建中提到,无论市场是好还是不好,他总是能够再融资,因为与他有合作的银行仍然支持他和他的再融资项目。
> 由于林氏集团卓越的信用和坚实的财务背景,政府已经拨款资助林氏目前在纽约哈莱姆的项目。网上误导的林氏项目"黑钱"的诽谤性传言是不攻自破的。
如果您有关于投资移民的问题,请与莫娜莎律师事务所联系。