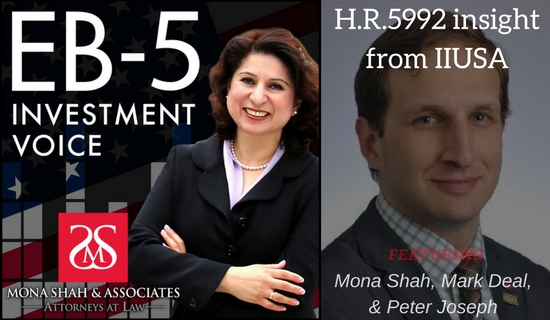 H.R.5992 insight with Peter D. Joseph of IIUSA – Episode 25
The American Job Creation and Investment Promotion Reform Act of 2016 (H.R.5992) was introduced to the 114th Congress recently.

The American Job Creation and Investment Promotion Reform Act of 2016(H.R.5992) was introduced to the 114th Congress recently. This pending bill introduced a lot of changes to the EB5 program. Some were expected, some are good, but there are a couple of points of concern. Peter D. Joseph joins Mona and Mark to talk about this new bill, what Invest In the USA (IIUSA) is doing, and how you can get involved.


Since 2010, Peter D. Joseph has served as the Executive Director of Invest In the USA. IIUSA is the national trade association for the EB-5 Regional Center Program. Under his leadership, IIUSA has grown to represent a vast majority of capital flowing through the EB-5 Program – while achieving advocacy, policy, and industry development goals by actively engaging in government and public affairs with an international reach.
As listeners of this show may already know, this program accounts for billions of direct investment dollars into the united states, creates tens of thousands of U.S. jobs and generating billions of dollars of tax dollars for the U.S. economy. We will know more about this new legislation and how it affects the EB-5 Program.

H.R. 5992 – American Job Creation and Investment Promotion Reform Act of 2016

This bill was introduced last week by Judiciary Chairman Bob Goodlatte and co- sponsored by Representative John Conyers of Michigan. This proposal still has a long way to go and will still be looked at by the judiciary committee, the house of the representatives and the senate.
There is much activity in the EB5 industry with everyone scurrying to file their petitions before September 30. People believe that the minimum requirement for investing in an EB5 project will be increased from $800,000 to $1.2 million. Aside from that, people are also speculating that the source of funds will have stricter rules after the 30th of this month. These are all speculations so far.

What is IIUSA?

Invest In the USA or IIUSA is the trade association for the regional center program. They represent the EB5 industry in congress. With the EB5 industry becoming such an important part of the US economy. IIUSA is composed of diverse set of stake holders that come from difference areas of the economy such as financial services, immigration and economic development. The aim of the organization is to educate all of the stakeholders, making sure that everyone is understanding this new proposal in the same way regardless of the professional discipline.

Points of Concern for H.R. 5992

Retroactive application of this new rule from petitions filed since June 2015. From an economic perspective wherein an investor has already invested in the economic development project and jobs have already been created, this proposal might do more harm than good. 98% of projects don't keep money in escrow after the i526 has been filed. This would mean that the money has already been deployed to the projects. If this proposal is applied retroactively, this would require investors to add more money, or if not, refinance the entire project again. This may be the beginning of possible grounds for litigation among the investors, projects and the government. This will cause a ripple effect to everyone tied to the project.
Raising of minimal amount required. Currently, the required amount is $500,000 up to $800,000 and $1.2 million for non-TEA. There is not much contest for this proposal because from EB5's inception, the minimum amount required has not been raised. Most people feel that it is an appropriate time to generally raise the minimum amount. From an investor's point of view, it should not be too high a number where not enough investor pool would be able to make enough investment. Another perspective is the differential between Non TEA and TEA. It should be enough that it makes an investor consider the differences and risk profiles between different projects, but not too much that it stops people from using the nonTEA to market quality projects with lower risk profile.
Regarding its effect on Chinese retrogression, the proposal has little effect on the backlog of people investing in the EB5 program in China.
Regardless of what the price point ends up being, the amount should be competitive and reasonable enough so that investors can take advantage of what the EB5 program has to offer.
Regarding source of funds, there has been much discussion that investors can no longer accept a gift from an uncle or aunt, but only from the parent and sibling. Although we want EB5 to be in line with international standards, this new bill will further scrutinize loans.

Good Points of H.R. 5992

This new bill allows you to file concurrently. Simply put, while waiting for the 526 results, the investor would be able to receive work authorizations while waiting for greencard petition adjustment. and work authorization while waiting for 526
Integrity measures included in the bill give more credibility to program. Issues that affects National security and antifraud provisions were addressed. This raises the bar for professional conduct within the industry.

How Can I get Involved?

Aside from having a good communication with Federal Agencies that are needed to protect the integrity of the program, you can visit IIUSA's website to inform and empower everyone as an advocate.