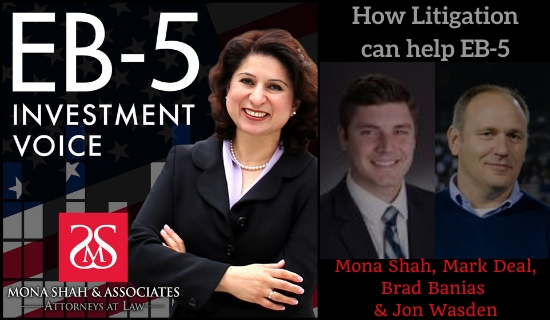 How Litigation can help EB-5- Episode 93
The current administration seems to be intentionally slowing down the adjudication process for EB-5. On this episode, Mona and Mark are joined by Brad Banias and Jon Wasden to discuss how they are leveraging litigation to address the egregious delays. Listen in for insight around what protects investors from government retaliation, how the USCIS funding mechanism is designed to support reasonable processing times, and why Wasden Banias proposes litigation as early as the six-month mark.
In 2016, USCIS reported that it took adjudicators approximately 6.2 hours to decide an I-526 petition. So, why is the agency making EB-5 applicants wait two to four full years for a decision? And how can we leverage litigation to change that?
Jon Wasden and Brad Banias are partners at Wasden Banias LLC. Both Jon and Brad represented USCIS as defense attorneys in federal court in their respective roles with the US Department of Justice's Office of Immigration Litigation before transitioning to private practice where they focus on federal litigation related to employment-based immigration benefits. On this episode of EB-5 Investment Voice, Jon and Brad join Mona and Mark to explain why litigation has become a necessary part of doing business in the EB-5 program under the current administration.
Brad and Jon address immigrant investor concerns around the fear of retaliation and the cost of litigation, discussing the protections available to EB-5 applicants who sue the government and the expense associated with the process. Listen in to understand why Brad and Jon feel comfortable filing delay suits at the six-month mark and learn how they argue against egregious delays to get better, faster decisions for their EB-5 clients.
---
USCIS Under the Trump Administration
Though most government agencies stay fairly consistent across presidential administrations, USCIS has taken a turn for the bizarre under Trump. Brad and Jon believe that they are intentionally slowing the process to preclude as many people as possible from receiving immigration benefits.
In the current climate, litigation has become a necessary part of doing business in the EB-5 program. Legal action seems to be the only way to hold USCIS in check and compel the agency to make better, faster decisions.
The Fear of Retaliation
Many immigrant investors hesitate to pursue litigation for fear of retaliation, and Mona has seen a number of bad-faith RFEs in response to lawsuits. But Jon believes that those RFEs are USCIS's attempt to avoid liability for the plaintiff's attorney's fees under the Equal Access to Justice Act by claiming that the approval was based on new evidence.
Immigrant investors are also protected from retaliation by the government attorney assigned to their case, as their interests are different from that of USICS itself. Brad explains that these Department of Justice lawyers simply want to save face in federal court and oblige USCIS to follow the Doctrine of Unconstitutional Retaliation.
Egregious Delays in EB-5
While most attorneys wait for the published processing times to lapse before filing litigation for their EB-5 clients, Jon and Brad argue that the published two- to four-year adjudication period is unreasonable. In fact, they feel comfortable filing suit at the six-month mark.
Under the Administrative Procedure Act, the government must consider the necessity and convenience of the petitioning party in determining adjudication times. As such, attorneys can make a strong case by explaining why it's important to their client to get a speedy decision.
Brad and Jon also point out that adjudicators appear to be reconsidering the fundamentals of a project every time (in violation of their own deference memos) as opposed to focusing solely on source of funds and investor-specific issues. It's extremely persuasive to a judge when the attorney cites that 80 petitions have been approved on the same fundamentals, yet their client is being denied on a fundamental issue.
How Funding Impacts Adjudication Times
USCIS claims that rising adjudication times are a result of the government shutdown and the time it takes to train new staff. Jon contends that this is blatantly false, as the agency is fee-based and does not run on tax dollars.
USCIS is required to raise filing fees to ensure it meets Congress's expectations for processing times. Under the Immigration and Nationality Act, that expectation is six months in the case of an immigrant petition and 30 days for a non-immigrant petition.
The Cost of Litigation
Immigrant investors also tend to shy away from litigation because of due to the perceived expense, but Brad and John argue that delay litigation costs less than you would imagine because there is no jury and no discovery. And investors save a significant amount by getting a decision two years sooner.
Government agencies do not like to be sued and delay suits are the easiest cases to settle by simply making a decision. In addition, if an EB-5 petition is then denied, the case is already in court where we can challenge the denial and force USCIS to justify its decision.