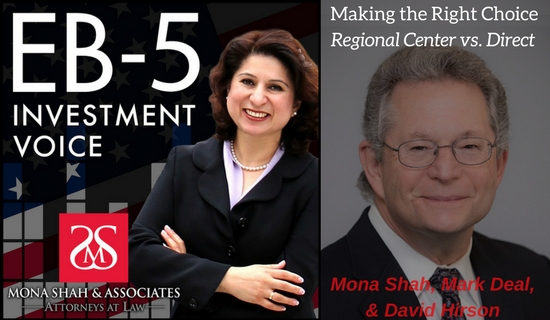 Making the Right Choice Between Regional Center and Direct Investment with David Hirson – Episode 53
EB-5 is arguably the most complicated immigration case to prepare,so it is in your best interest to hire an attorney who understands the nuances of the program. Today, Mark and Mona are joined by David Hirson, one of EB-5 Investors Magazine's Top 25 Attorneys of 2017, to discuss the differences between Regional Centers and direct investment. They cover the factors to consider in deciding between the two investment options, the common mistakes among applicants and attorneys, and the value of working with an experienced immigration lawyer.
Of the 15,000 immigration lawyers in the United States, only about 300 specialize in the EB-5 program. An experienced lawyer who understands the nuances of the program and your unique situation can help you navigate the system and make informed decisions around the type of investment you choose to make. Unfortunately, it only takes one misstep along the way to lose your money—and your green card.
David Hirson, the managing partner of David Hirson & Partners, once again joins Mona on the list of EB-5 Investors Magazine's Top 25 Attorneys of 2017. He has worked on EB-5 cases since the program was established, preparing and filing one of the first EB-5 cases back in 1991. David is an active member of the immigration law community, and his firm is often called upon by trade groups, investors, projects and universities to serve as subject-matter experts on the topic of EB-5 investment visas.
Today David joins Mona and Mark in discussing the differences between a Regional Center and a direct-hire investment, specifically the job creation requirements and the investor's level of involvement in project management. They cover the common mistakes made by investors who purchase existing businesses and misconceptions among inexperienced attorneys with regard to the two-tier level of investment. Finally, David and Mona speak to the difficulty investors face in getting meaningful information from Regional Centers as well as USCIS and the value of securing assistance from a qualified EB-5 attorney.
Choosing a Top Attorney
Though there are 15,000-plus immigration lawyers in the US, only about 300 deal with EB-5. It is arguably the most difficult type of case to prepare, and it is in your best interest to work with an expert as failure can be disastrous to you and your family.
Make sure your attorney understands your specific situation as well as the full spectrum of immigration options available. EB-5 may not be the best choice for you.
While you could conceivably file an I-526 on your own, the 28-page form can be a 'mine field.' An experienced EB-5 attorney can help you avoid mistakes and deal with any changes to the program in real time.
EB-5 Investment Options
There are two programs under the EB-5 umbrella:
Regional Center
Direct-Hire Investment
In the case of direct-hire, your project must have ten full-time employees per investor on payroll to fulfill the job creation requirements. Regional Centers, on the other hand, can count indirect and induced jobs.
If you are short on the final job count, a direct investment can still get approved by proving that additional employees will be hired within a reasonable amount of time. (USCIS has gotten better about understanding the legitimate reasons why there might be a delay.)
Level of Involvement
Another difference between Regional Center and direct investment projects involves management. Regional Center project managers are unrelated to the investors, while direct-hire investors have the option to manage the project themselves.
The type of investment you choose should depend on your circumstances. If you plan to attend school full-time, it makes more sense to do a Regional Center project that you don't have to manage yourself. If you intend to earn an income by managing the project, choose the direct investment option.
Common Mistakes
Don't make the mistake of buying an existing business that already employs ten-plus full-time workers and thinking your work is done. You are required to generate ten new jobs per investor.
There is one exception to this rule, but it requires proof that you are saving existing jobs in a failing business. If you buy a business that has a 20% loss of equity over the last one to two years, you may be allowed to count those existing jobs. Again, be sure that your attorney is capable of a careful analysis.
Begin with a specific plan regarding how your investment will be used to create jobs, and be careful not to over- or under-capitalize. David explains that he often steers clients away from entrepreneurial or standalone projects because failure means losing your money—and your green card.
Regional Center Pros & Cons
Unlike the direct-hire investment, the Regional Center is not a permanent program. So far, Congress has continued to extend the program, but there are no guarantees. The direct investment program, on the other hand, is not in danger of sunsetting.
The big advantage of investing in a Regional Center is the unique way job creation is calculated. Businesses generate economic growth in an area, creating new jobs beyond the walls of the business itself as employees spend money in the community. Regional Centers get credit for those 'hidden jobs.'
Choosing to invest in a Regional Center project does not prevent you from starting your own business in the US. Mona contends that it may be easier to invest in a feasible Regional Center project to get your green card, and then start your own business without the associated worries around immigration.
Location vs. Project
There is a common misconception among inexperienced immigration attorneys that entrepreneurial visas require a $1M investment. The two-tier level of investment actually applies to both Regional Centers and direct investments.
The option to invest $500K is based on location rather than project type. The smaller investment amount is allowed on projects in target employment areas whether Regional Center or direct investment.
Staying Informed
Perhaps the most frustrating aspect of Regional Centers is that some communicate better than others. Investors often struggle to get the information and documents necessary when it is time to file an I-829.
It is nearly impossible to get useful information from USCIS. While they do respond promptly to inquiries, the information provided does not offer a real sense of what is going on.