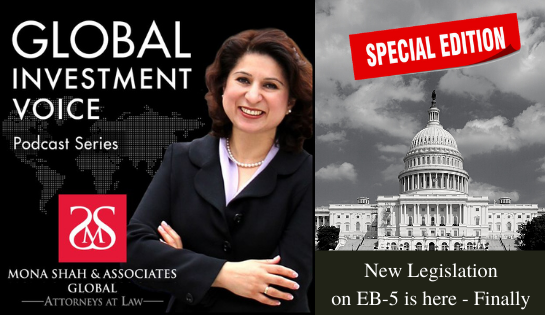 New Legislation on EB-5 is here – Finally – Episode 155
Congress has finally passed the long-awaited omnibus bill and, with it, new EB-5 legislation. In this Special Edition episode, Mona Shah is joined by Sam Udani (Founder, ILW) to discuss breaking new policy to the EB-5 program, including the reauthorization of the Regional Center program, increased minimum investment amounts, TEA regulations, and concurrent EAD filings.
Guest Speaker
Sam Udani, ILW
Sam is the founder and publisher of ILW Immigration Daily, an online newspaper dedicated to immigration law. Founded in 1999, ILW produces thousands of articles every year for its 35K-plus subscribers, and the organization's marketing arm has hosted 300 events in 14 countries over the last seven years.