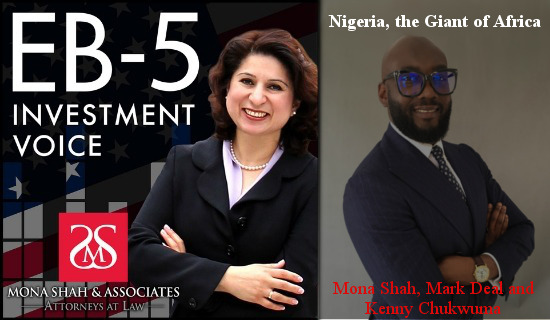 Nigeria, the GIANT of Africa – Episode 120
While the Trump administration's "travel ban" was revised to include Nigeria, immigration to the United States from the country has continued to grow. Interest in citizenship by investment, including EB-5 and E-2, has soared over the last few years as Nigerian nationals consider the opportunity to invest in the U.S. and pursue short term or long term immigration options. On this episode, Kenny Chukwuma of Ken & Kent Lawyers (Abuja, Nigeria) joins Mona and Mark to provide insight into the robust Nigerian economy and the growing number of investors interested in pursuing U.S. immigration.
Kenny Chukwuma is the Managing Partner and Head of International Law at Ken & Kent Lawyers in Abuja, Nigeria. The law firm is a reputable and forward thinking firm with key focus in Immigration, Citizenship, Visa Advisory, Corporate Law and Real Estate practice. Mr. Chukwuma holds a Masters Degree (LLM) in International Business Law from London, United Kingdom and is enrolled as Barrister and Solicitor of the Supreme Court of Nigeria. He possess 10 years experience in the area of Immigration Law and provides strategic advisory to individuals and businesses operating in the ECOWAS and European Union regional markets.
On this episode of EB-5 Investment Voice, Mona, Mark and Mr. Chukwuma discuss the reasons why Nigerians are interested in investing in the United States and obtaining citizenship abroad. Listen in for insights from immigration experts on why the market for citizenship by investment is growing immensely in the country of Nigeria.
---