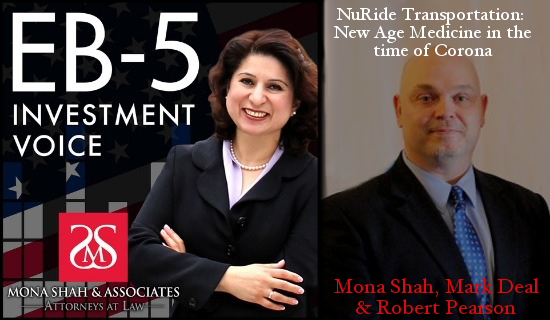 NuRide Transportation: New Age Medicine in the Time of Corona – Episode 109
EB-5 Investment Voice is investigating how EB-5 projects are coping in the midst of the coronavirus pandemic's effect on the American economy, starting with NuRide Transportation Group, a transportation company in the heart of New York City. On this episode, Mona and Mark are joined by Robert D. Pearson, Chief Business Development Officer at NuRide, to discuss how the company is working on initiatives to assist the state of New York in the midst. Listen in to understand how a project funded by EB-5 investments is thriving and providing essential services during the COVID-19 pandemic.
While EB-5 projects have been overwhelmingly real estate-focused, there are a variety of other industries that may be more resilient in the face of an economic downturn. As investors consider where to invest $900,000 or $1.8 million, it is imperative to consider the project and its economic resilience. MSA Global is investigating the state of these non-real estate EB-5 projects and how they are coping with the current pandemic.
Robert Pearson is the Chief Business Development Officer at NuRide Transportation Group, overseeing the company's new business initiatives and strategic growth. Rob is also a member of the Board of Governors of the National Realty Club, where he has served as president and general counsel.
---
New Age Med Care (NAMC)
New Age Med Care (NAMC) will offer technology-powered health care solutions to enhance efficiency, affordability and accessibility for patients and medical providers. Through telemedicine, house calls, and medical transportation, NAMC enables health care facilities, agencies, and practitioners to serve patients with speed and safety, making a significant impact on health care.
This venture brings together three companies that provide essential medical services to those suffering from the COVID-19 virus or other ailments. Due to the current state of the healthcare system and the confines of social distancing, the availability of healthcare professionals and the ease of access to them has become far more limited.
To make these services more accessible, NAMC has created an online platform to seamlessly combine and coordinate three distinct companies that each provide their unique expertise and capabilities.
The Three Components
SmartCareDoc provides access to an enhanced version of primary care in the form of telemedicine. This allows people to make an appointment and meet with a doctor or healthcare specialist though video visits, scheduled phone visits and online visits, enabling patients to receive the care, advice and diagnoses they need.
Opear MD allows patients to be examined by doctors, nurses or other medical practitioners in the comfort of their own home. With an easy-to-use app, patients can schedule on-demand home visits with licensed healthcare providers without the unnecessary risk or exposure of waiting rooms or public areas.
NuRide provides the logistics to safely transport both medical professionals and patients. With call centers and rapid scheduling, doctors can be transported to a patient's home and, if a case of COVID-19 is identified, the patient can be safely transported to a hospital or clinic.
Why Consider EB-5 Projects outside Traditional Real Estate?
EB-5 investment projects have overwhelmingly been in the real estate industry, often in the form of hotel developments. However, as the future of the economy becomes less clear in the midst of the pandemic, it is crucial to consider how other industries fare during times of economic stagnation or even downturn.
Projects such as NuRide, which has garnered EB-5 investments for its for-hire vehicle enterprise in the heart of New York City, is by no means a traditional real estate development. As hotels sit empty in the middle of Time Square, NuRide is finding innovative ways to stay profitable by offering services in a way that meets the needs of the City during this time of crisis.
While the hospitality industry seems to be taking the biggest hit in the wake of the imposed social distancing regulations, projects in other industries will continue to prosper and thrive while offering their expertise to their communities in a time when we need them the most.