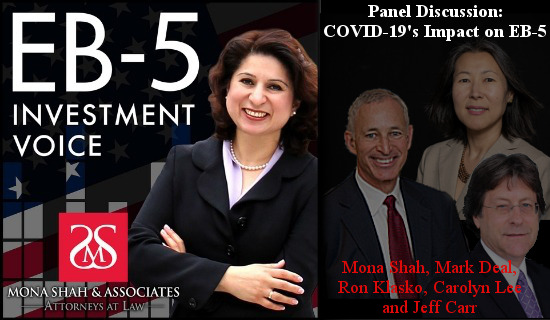 COVID-19's Impact on EB-5: A Panel Discussion – Episode 110
CORONAVIRUS SPECIAL PODCAST:
In a special 60 minute podcast, Mona and Mark are joined by Ron Klasko, Carolyn Lee and Jeff Carr to discuss the concerns the EB-5 community is facing in the ongoing pandemic and associated economic downturn. Listen in to understand how investors and projects will be impacted by the COVID-19 pandemic.
How is the EB-5 program impacted by the COVID-19 pandemic? What are the different concerns for investors as well as the projects and how should one tackle these challenges moving forward?

The COVID-19 pandemic has taken its toll on one sector after another, its impact is also being felt in the EB-5 community. Investors are worried about not being able to meet all the regulatory requirements to immigrate to the U.S. as well as their capital investments. On the project side the challenges relate to job creation as well as potential material change issues. There are also contractual and regulatory issues in lieu of this pandemic, that need to be considered in more depth by the whole industry going forward.

Ron Klasko heads the E2 and EB-5 investors team at Klasko Immigration Law Partners, where they have represented thousands of investors, over 50 regional centers, and many U.S. developers. Ron currently chairs the American Immigration Lawyers Association administrative litigation Task Force. He has also served five terms as a chair of AILA's EB-5 committee and has won the AILA Founders Award two times.

Carolyn Lee has represented regional centers, developers, funds and investors for over a decade. Helping US project clients raise two and a half billion dollars in EB-5 capital. She is also the current chair of American Immigration Lawyers Association National EB-5 Committee, and she is also the new chair of IIUSA's Public Policy Committee, and also serves as their legislative counsel.

Jeff Carr is the president and senior economist at Economic and Policy Resources Inc. With 35 years as an analyst, he has helped develop EB-5 project business plans in 45 states and completed more than 225 economic impact studies. Jeff has also completed dozens of direct EB-5 project assessments, analysis to establish targeted employment areas and has drafted numerous regional center business operation plans.