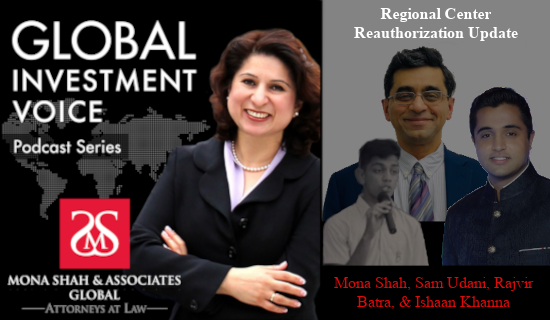 Regional Center Reauthorization Update – Episode 148
It has been more than four months since the Regional Center program expired, with no clear plan for reauthorization on the horizon. In this episode, Mona speaks to Sam Udani of ILW, and Rajvir Batra and Ishaan Khanna of AIIA, who share their insight and expertise on the legislative efforts and obstacles facing the Regional Center program. Listen below to learn about all things reauthorization – including policy proposals, what Congress is doing, and the future of EB-5.
Sam Udani has been involved with the immigration community in the USA for most of his career spanning three decades, involving immigration politics and immigration policy and covering all manner of immigration into the USA. He has been a tireless advocate for enlightened immigration laws for the USA since ACWIA, AC21/ACTA and continuing from then on. Mr. Udani currently serves as the Law Publisher and CEO of ILW.COM and Immigration Daily, a position he has held for over twenty years. As Publisher, he directs all activities of the website and newspaper with over 50,000+ pages of free information on immigration law that receives 250,000 visitors per month. Under Mr. Udani's direction ILW has conducted 600+ CLE seminars, published over two dozen immigration law books and conducted hundreds of immigration events in over a dozen countries.
The American Immigrant Investor Alliance (AIIA) was founded in April 2021 as a Washington D.C.-based 501(c)(4) non-profit to provide a voice and representation on behalf of investors. As an organization whose sole focus is on EB-5 investors, both that are resident in the US and those awaiting their petitions to be adjudicated outside the US, AIIA strives to be the single authoritative investor-focused advocacy organization representing interests of all EB-5 investors.
Ishaan Khanna is the Director and co-founder of the American Immigrant Investor Alliance. He invested in EB-5 in 2016 and started working in the EB-5 industry in 2018.
Rajvir Batra is currently an undergraduate student at Harvard University studying Economics and Government. At AIIA, he serves as the Policy Director, focusing on legislative priorities and the Alliance's Congressional outreach.