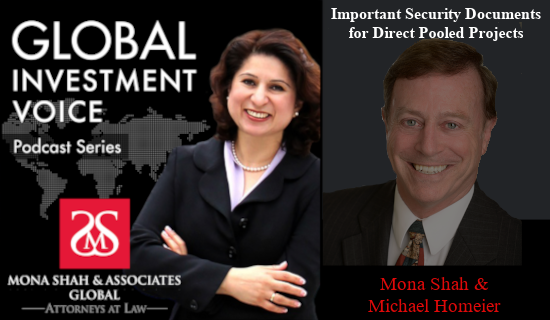 Important Security Documents for Direct Pooled Projects – Episode 149
Securities documents are an important part of any EB-5 project, no matter what type of investment or how many investors there are. The current lapse in the Regional Center program is not an opportunity to cut corners – direct projects have the same securities requirements as Regional Center projects do. In this episode, Mona Shah is joined by attorney Michael Homeier, who is vastly experienced in business finance law, to discuss all things securities and debunk common misconceptions. Listen below to learn about the importance of documents, disclosing critical information, and what investors, developers, and attorneys alike should know about securities law.
Michael Homeier practices in the area of securities, corporate, transactional, and business financing law (including EB-5 (Regional Center and Direct), Investment Crowdfunding, and Blockchain/Token Offerings). Michael has represented well over 500 exempt securities offerings, including issuers, regional centers, crowdfunding platforms and portals, and token offerors, assisting all of them with the structuring of their projects as well as the negotiation and drafting of business and securities documents relevant to successfully conducting exempt securities offerings, including private placement memoranda (PPMs), investor procurement agreements, limited liability agreements, loan agreements, subscription agreements, investor questionnaires, regional center sponsorship contracts, plus transactional and corporate documents. He earned his J.D. from the University of Southern California, and his B.A. from UCLA.