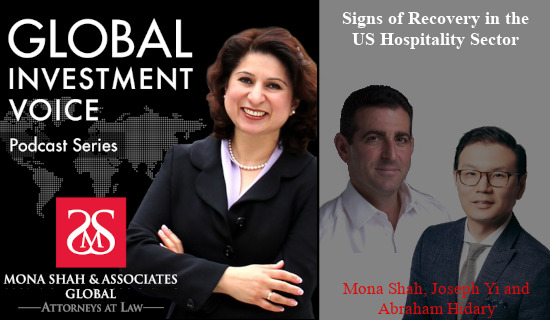 Signs of Recovery in the Hospitality Sector – Episode 143
Few industries have been hit harder by the COVID-19 pandemic than the hospitality sector. With devastating drops in leisure, business, and international visitors, will New York City return to the travel hot spot it once was? In this episode, Mona Shah speaks with Joseph Yi, Chief Investment Officer of Real Hospitality Group, and Abraham "Abie" Hidary, CEO of Hidrock Properties, to discuss all things hospitality across New York, Florida and the rest of the country. The three share their insights and perspectives on various topics, including how the pandemic impacted the hospitality sector, what the economic recovery process looks like, and how the pandemic has brought innovative improvements to the industry across the country. Listen in to hear about the evolving future of the hospitality industry and why New York City is already starting to see improvements.
Joseph Yi is the Chief Investment Officer for Real Hospitality Group, a top tier hotel operator and owner with over 100 hotels under its portfolio and with 4 offices including its first international office in Shanghai, China opened in 2020. Mr. Yi established and is the Managing Director for RHG Investment Company in 2017, a wholly owned affiliate of Real Hospitality Group that focuses on investing in the lodging sector. In addition to leading RHG's investment goals and strategies, Mr. Yi sits on the executive committee of RHG advising on the overall direction of the company and business practices. Mr. Yi's investment experience spans almost 2 decades, including over $4 billion in hotel investments. Prior to joining RHG, Mr. Yi has served in multiple senior leadership positions in large development companies, including as VP and General Counsel (chief legal officer) for Lam Group. Mr. Yi is active in the real estate and hospitality community, including as an Emeritus Board Member for Asian Real Estate Association of American Manhattan Chapter and Board of Directors for International Luxury Hotel Association NE Chapter.
Abraham "Abie" Hidary is CEO of Hidrock Properties, a New York City real estate development and investment firm founded in 1982. Since joining Hidrock in 2000, Mr. Hidary has been responsible for sourcing and implementing all of the company's equity and debt financing requirements. Under Mr. Hidary's leadership, Hidrock has closed over $2.5 billion of real estate transactions in the office, residential, retail, and hotel sectors. Notable hotel projects in the New York area include the acquisition, development, and sale of the Courtyard Marriott Herald Square, Springhill Suites Fifth Avenue, Courtyard Marriott World Trade Center, Embassy Suites Midtown New York, and Hilton Meadowlands. Mr. Hidary graduated magna cum laude from Yeshiva University's Sy Syms School of Business in 1998 and is a member of the board of directors for the Garment District Alliance, a member of the Downtown Alliance, president of the Yeshivah of Flatbrush – educating over 2,000 students with over 13,000 alumni since 1927, and a frequent speaker and panelist at real estate events and conferences.