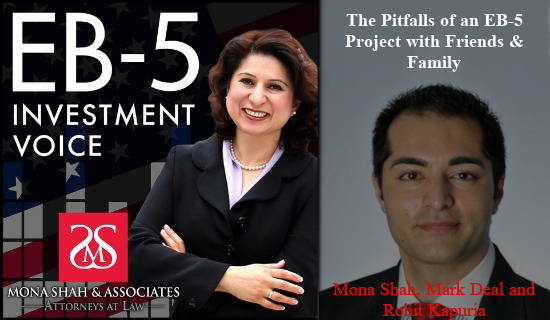 The Pitfalls of an EB-5 Project with Friends & Family – Episode 135
When it comes to direct EB-5 projects, investors are often friends or family starting a venture in the U.S. with the hopes of acquiring a green card in the process. But what happens when things don't go according to plan? On this episode of EB-5 Investment Voice, Mona Shah and Mark are joined by Rohit Kapuria of Saul Ewing Arnstein & Lehr LLP to discuss what happens when business and family intersect and how to prepare for disagreements and disputes. Listen in to hear how EB-5 attorneys prepare offering documents that protect the busines, no matter what happens!
Rohit Kapuria is a partner at Saul Ewing Arnstein & Lehr LLP, focusing his practice in general corporate and securities law, representing both public and private companies in connection with mergers and acquisitions, public and private offerings of securities and SEC disclosure, and corporate governance. His corporate/securities practice also includes handling private offerings under the EB-5 investor visa program. Rohit regularly represents EB-5 lenders, EB-5 borrowers, banks, regional centers, real estate developers, investors working on direct EB-5 projects, and migration brokers. In this capacity, he works collaboratively with economists, business plan writers, investment managers, and other professionals in preparing I-924 and I-526 petitions for filing with USCIS. He has worked on over 200 EB-5 transactions, with a combined capital development cost in excess of $5 billion, around the country. Rohit also regularly speaks on EB-5 topics both nationally and internationally. In 2016 he was selected to the Top 5 EB-5 Rising Stars by EB5 Investors Magazine.