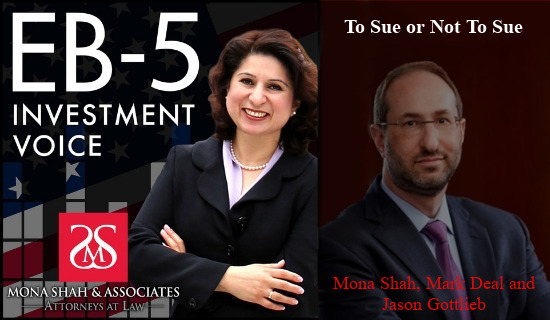 To Sue or Not To Sue – Episode 139
The United States is a decidedly litigious country, and the EB-5 industry is seeing an increase the number of lawsuits filed against both project developers and the government itself, seeking protection against fraud and misuse of funds, delayed return of capital and speedier adjudications by USCIS. But with concerns about cost, lengthiness and likelihood of success, is a lawsuit always a good idea? On this episode of EB-5 Investment Voice, Mona Shah and Mark are joined by Jason Gottlieb of Morrison Cohen LLP to discuss what factors to consider when deciding whether to file suit. Listen in to gain insight into whether filing suit is the best decision and if not, what other options you may have.
Jason is a Partner in Morrison Cohen's Business Litigation Department, and Chair of the White Collar and Regulatory Enforcement practice group. His practice focuses on regulatory enforcement, litigation, and arbitration relating to securities, EB-5 issues, cryptocurrency, commodities, futures and derivatives, and structured finance.
Jason defends companies and individuals in investigations and enforcement actions conducted by governmental or self-regulatory agencies, including the SEC, CFTC, Department of Justice, New York Attorney General's Office, FINRA, ICE, CME, NYMEX, Arca, state attorney generals and securities regulators, and others.
Jason has been widely published and quoted in the media, including by CNN, CNBC, Bloomberg Law, Fortune, the National Law Journal, The New York Law Journal, Law360, The Real Deal, and many more. Prior to joining Morrison Cohen, Jason was an attorney at Cleary Gottlieb Steen & Hamilton LLP. Before becoming a lawyer, Jason worked at a Japanese internet services company in Tokyo.