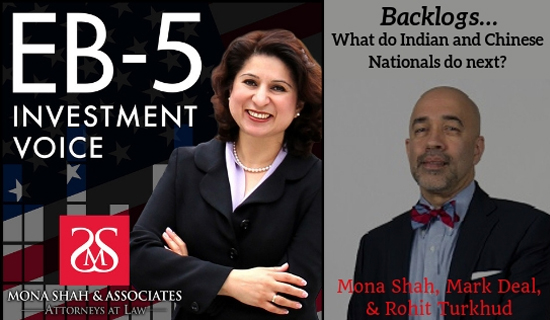 Backlogs… What Do Indian & Chinese Nationals Do Next? Featuring Rohit Turkhud – Episode 77
In light of Charlie Oppenheim's most recent revelations, Indian and Chinese nationals may feel as if the door to the US is closing. Today, Mona and Mark are joined by Rohit Turkhud of Fakhoury Global to discuss the significant wait times to apply for a visa and the current misunderstandings around what filing an I-526 does and does not do. Listen in to understand the options Indian and Chinese nationals have with regard to acquiring non-immigrant visas and learn how many are leveraging E-2 visas to beat the backlog and get to the States.
Charlie Oppenheim delivered some devastating news at the most recent IIUSA event in Washington DC, revealing worst-case scenario wait times for Indian and Chinese nationals of 8.4 and 16.5 years, respectively. So, are the doors to the US closing for aspiring immigrant investors from India and China? What can prospective EB-5 applicants do to live and work in the US legally while they wait? What are their options when it comes to non-immigrant visas?
Rohit Turkhud is a 34-year veteran of US Immigration & Nationality Law with an extensive background in employment-based immigration. Rohit was a contributing author on The PERM Book and hosted a prime-time LIVE immigration show on a national network for six years.
Today, Mona and Mark sit down with Rohit to discuss public misinformation around what the I-526 does and does not authorize at present and explain how concurrent filing IS part of new draft legislation. Rohit offers several non-immigrant visa options Indian and Chinese EB-5 investors might use to stay and work in the United States, including the H-1B, F-1, L-1 and O-1, and cautions against short-term solutions like the B-1 or J-1. Listen in for Rohit's insight on how the door to the US is NOT closing, you just have to learn to navigate the system effectively to find your particular opening.
---
Charlie Oppenheim's Revelations
At the recent IIUSA Conference, Charlie Oppenheim, Chief of Visa Control for the US Department of State, offered some disheartening news for Indian nationals: He predicts that the State Department will impose a Final Action Date for India in June or early July of 2019.
The worst-case scenario for Indian-born immigrant investors is a total wait time of 8.4 years to apply for a visa. For mainland Chinese nationals, the worst-case scenario is 16.5 years for aspiring immigrants who apply today.
EB-2 and EB-3 visas (for skilled professionals and academics) serve as the traditional path to residency for many Indian and Chinese nationals. But according to Charlie Oppenheim, Indian-born immigrants may have to wait 50+ years to receive an EB-2 or EB-3 visa.
What the I-526 Does & Does Not Authorize
Filing the I-526 does not give you any right to stay and/or work in the US. In fact, you don't have the right to remain in the US until you file the adjustment of status application, and you don't have the right to work in the US until you get the employment authorization document (EAD)—which is issued about 100 days after you've filed the adjustment of status.
Luckily, concurrent filing is part of the new draft legislation and proposed regulations. Should one or the other be adopted, you could get an EAD while your EB-5 application is pending.
Options for Indian & Chinese Nationals
The H-1B visa is one of the most viable options for Indian and Chinese nationals to live and work in the US. While there are no quotas by country for the H-1B, there is a global quota, and India dominates the program—using 30% of the allotted visas.
The H-1B has a six-year limit; however, AC21 allows for nearly unlimited extensions once you have an approved I-140 petition. And remember, the I-140 must be filed within 180 days of the program electronic review management or PERM application.
The Distinctions Among Non-Immigrant Visas
The F-1 student visa requires applicants to establish non-immigrant intent. However, if the individual is a bona fide student, they are allowed to file an EB-5 application without consequence. In addition, F-1 students earning STEM degrees are eligible for a three-year work permit known as optional practical training, or OPT.
H-1B and L-1 visas allow for dual intent. This means that you cannot be denied an H1-B or L-1 based on an intention to immigrate to the US permanently.
Canadian citizens can utilize the TN-1 visa to enter the US, and Australian citizens are eligible for the E-3. Singaporean and Chilean citizens can employ the H-1B1.
The O-1 visa is another potential option for Chinese and Indian investors. It is reserved entrepreneurs who demonstrate extraordinary abilities.
Non-Immigrant Visas to Use with Caution
Aspiring EB-5 investors should be careful about entering the US on a B-1 visa, as it is intended for visitors in the US on business. The B-1 does not allow you to work for anyone other than your foreign employer, and it limits you to a six-month stay in the US.
The J-1 (for research scholars, professors and exchange visitors) can also be problematic for EB-5 applicants, as it limits you to 18 months in the US and comes with a two-year residency requirement, meaning that you must return to your home country for at least 24 months before changing your status.