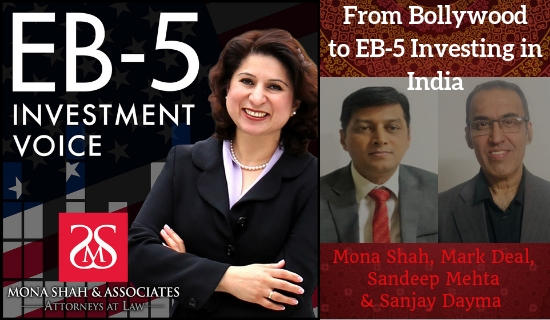 From Bollywood to EB-5 Investing in India – EPISODE 76
Though large real estate projects have become the norm in EB-5, Indian investment firm Infinity Multi Ventures is taking a much different approach. Today, Mona and Mark are joined by Sandeep Mehta & Sanjay Dayma to discuss their support of smaller, niche projects in pharma, tech and education. Listen in for insight around key India-US connections and learn how Infinity is supporting startups in the early stages when they need capital most!
The number of EB-5 applications from India has increased by a remarkable 300% in the last year, and as interest in the program grows, talent from other industries is getting involved in the world of immigrant investing. In fact, two Bollywood players started the firm Infinity Multi Ventures, and their approach to EB-5 aligns with the program's initial intention to help entrepreneurs and small businesses in the US launch their projects, providing capital in the early stages when it is most valuable to growth.
Sandeep Mehta and Sanjay Dayma are two of the three founders of Infinity Multi Ventures, an investment firm dedicated to partnering with US businesses in the pharmaceutical, technology and education industries. Infinity invests its own money in the projects and provides management support to entrepreneurs, affording EB-5 investors confidence that their money has the potential to earn a lucrative return.
Today, Sandeep and Sanjay join Mona and Mark to explain why their approach is the way forward for EB-5, considering the likely increase in minimum investment from $500K to $1M. They discuss how Infinity affords investors the opportunity to choose projects that reflect their interests, offering insight into the psyche of an Indian investor and the India-US connections in the realm of technology and banking. Listen in to understand why education is such a prevalent area of interest for Indian investors and learn why savvy EB-5 investors prefer smaller projects they can monitor to glamourous but risky real estate developments.
---
The Initial Intent of EB-5
The EB-5 program was originally designed for smaller, niche projects like those supported by Infinity Multi Ventures. It is difficult for startups to get loans from banks before a business is up and running, and EB-5 investments provide an alternative source of capital in the beginning— when entrepreneurs really need it.
Glamour projects in real estate and hospitality come with a great deal of uncertainty for EB-5 investors. They have no way of monitoring the development's progress, and their money is tied up in the riskiest part of the project.
The Infinity Multi Ventures Approach
Sandeep and Sanjay start by identifying businesses with passionate promoters in need of bandwidth and capital. After conducting due diligence, Infinity Multi Ventures partners with the entrepreneur to provide management assistance and 'boots on the ground' so that he or she can focus on moving their idea forward.
Infinity Multi Ventures also invests its own money in the project, which adds a level of comfort for investors. Thus far, Sandeep and Sanjay are focused on the pharmaceutical, technology and education industries, as those areas reflect the interests of their client-investors.
The Impact of an Increase in Minimum Investment
If the rules change as anticipated and the minimum EB-5 investment shifts from $500K to $1M, Sandeep and Sanjay anticipate an initial dip in demand. In addition, investors will likely expect a higher ROI.
The prospect of higher returns is yet another reason that investments in small niche businesses are more attractive to Sandeep and Sanjay's clients than large real estate projects. Infinity Multi Ventures looks for 3 to 5% returns as well as a significant increase in each company's valuation.
Indian Investor Interest in Education
Many Indian investors have an interest in sending their children to the US for a quality college education. As such, these investors also have an interest in businesses that support foreign students.
Infinity Multi Ventures is partnering with TES USA, an established company with three decades of experience in the American education system. This collaboration will allow TES to continue to grow and support foreign students all over the world.
The Psyche of an Indian Investor
Indian EB-5 investors are interested in understanding the people they are investing in first and then the project. If both are exciting, the investor is more likely to deploy his or her capital.
Again, education is the driver for many Indian investors. They are willing to pay any amount of money for their child's opportunity to earn a college degree from an American university and to live and work in the US as a citizen.
The Connections Between the US + India
A large number of tech startups launch in India and then move to Silicon Valley. Thus, it makes sense for Indian investors to support technology projects in the US.
Another space with strong US-India ties is banking. As the previously unbanked population in India gains access to capital and information through FinTech, demand is fueled in other industries, and Indian banks are eager to be a part of the growth facilitated by EB-5 capital.