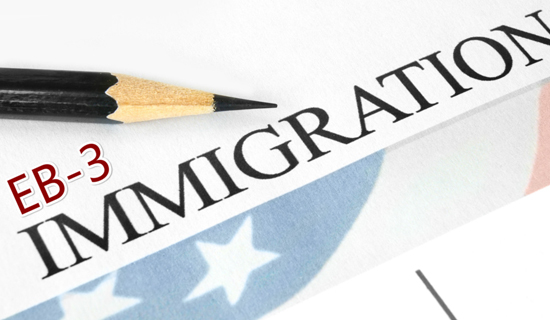 EB-3 Other (unskilled worker) Category Immigration Program is Necessary for Some Employers and is a Long Standing, Valid Program
Recently, a few immigration attorneys who predominantly focus their practices on EB-5 have published articles denigrating the usage of EB-3 Other (EW), the unskilled worker category, for immigration. This was precipitated after so many migration agents in Asia promoted this program to people who cannot afford the EB-5 program, because the visa numbers are practically current in both categories for most Asian countries other than mainland China and India. These attorneys opined that in many cases the EW program is being described and offered in a way that is inconsistent with the U.S. Citizenship and Immigration Service (USCIS) and U.S. Department of Labor (DOL) laws and regulations, and that in the most egregious cases EW programs intentionally circumvent the legal requirements and are fraudulent.
However, these alarms are overly generalized opinions designed to steer potential immigrant workers from properly utilizing a long accepted EB-3 program.
In any immigration practice, there have been and are some shoddy practices of a few migration agents or even legal practitioners who will do anything to "sell" green card benefits to those who seek to immigrate to the United States. Indeed, there are many reports of fraudulent activities in the EB-5 world, such as the Chicago Convention Center, the Jay Peak and most recently the California Investment Immigration Fund case where the regional center principals have misappropriated investors' funds. There are also instances where immigration attorneys have been charged by the Security Exchange Commission (SEC) for receiving a "finder's fee" from regional centers in violation of rules allowing only licensed brokers to sell securities. There are also many instances where the regional centers' lawyers are forced upon the investors creating a potential conflict of interest situation if things go wrong. These unsavory media attentions followed the skyrocketing popularity of the EB-5 program during the past 5 years, but stories about "bad players" are inevitable for a popular immigration program that quickly allows foreigners (within 2 years) to be able to enter the U.S. legally as permanent residents. These stories, however, are not the mainstay of the EB-5 world and the mere possibility for abuse should not be the primary reason for avoiding EB-3/EW either.
As lawyers, we deal with specific facts and evidence that are case-by-case in nature. No two cases are exactly same. Thus, overly broad statements that impugn the entire EW program as being fraught with fraud are irresponsible, and when these words are published by an attorney and might be construed as legal opinion, are downright dangerous. In the same light, the opponents of the EB-5 have tried to state that the program was being used by terrorists and money launderers and therefore must be eliminated. In a recent House Judiciary Committee hearing, one regional center project of one huge Manhattan project was the focus of some Congressional members who challenged the way the Targeted Employment Area (TEA) was being utilized. However, citing examples of poor execution in one person's opinion does not make an entire project or program bad or illegal.
The key point is that whatever program may be used for the legal path to permanent residency, it must be used per existing laws and regulations.
In most categories of Employment-based immigration, the key part is the "employment". Employment-based sponsorship in U.S. immigration is divided into several preference categories, with the Employment-Based Third category being reserved for sponsorship for positions requiring:
Less than two years' training or experience (unskilled workers).
At least two years of experience in the field of expertise (skilled workers); or
A Bachelor's degree.
The ire of a few practitioners has been focused on the "unskilled workers" category (EW), which they argue is being used to take business away from EB-5 cases. That simply is not the case.
A PERM application is processed and filed by the employer with the Dept. of Labor (DOL) after the employer conducts local, U.S. recruitment and can show that it was not able to find enough minimally qualified, able, or willing U.S. workers for the positions that they are trying to fill. All the cost for the PERM LC process, including the recruitment and attorney fees, must be paid by the employer. 20 CFR § 656.12
The second step, also undertaken by a potential employer, is an employment-based immigrant visa petition known as I-140 filed before the U.S. Immigration and Citizenship Services (USCIS).
Please note that unlike the PERM application process of DOL, there is no regulation prohibiting the potential foreign worker from paying the filing fees and attorney fees of the I-140 as they are the ultimate beneficiary for this immigration process. Also, it is logically acceptable practice for one attorney who represents the employer to represent the employee because it will ease obtaining and preparing the necessary documents and filing petitions from both the employer and employee.
The third and final step involves preparation and filing of an application for an adjustment of status (I-485), if the foreign national employee is in the U.S. under a valid status, or more commonly the immigrant visa applications (DS-260) with the Dept. of State (DOS) for the employee and every individual member of his/her nucleus family of spouse and unmarried children under 21 years. The filing fee, called the Visa fee, and attorney fees for this process are the sole responsibility of the foreign national employee.
The Government, including the DOL, USCIS, and the DOS work diligently to make certain that the EB-3/EW program is being used properly, and may conduct random Audits at the DOL, and RFE by USCIS to check that the U.S. labor market was properly tested, all positions offered are bona fide, and the employer has "the ability to pay" all the workers they sponsored.
Just as the track records of the Regional Center and EB-5 attorneys are important considerations for due diligence before starting the EB-5 cases, it is best to review the track record of any employer in the EB-3(other) category to assess the legitimacy of their sponsorships. Any employer whose LC cases keep getting withdrawn after an Audit is issued, contrary to DOL rules, should draw suspicion that they did not properly test the U.S. labor market before filing the PERM cases. Any recruiter/agent's name that is associated with an extraordinary number of denials relative to the number of filed cases probably does not have the proper authority or cooperation of the employer who purportedly is sponsoring the workers, which is an indication of possible fraud.
Another red flag for fraud is an exaggerated number of sponsorship applications, all of which may not be bona fide. An employer with 60 total employees has no business sponsoring 100 PERM applications, which was one of the egregious example of fraud I have seen. On the other hand, a chicken processing company that processes over 100,000 birds each day with thousands of employees could easily sponsor 100-200 employees each year without any problems. Their needs for sponsoring foreign workers are clearly demonstrated by thousands of workers they hire locally each year quitting within weeks, if not days of being hired resulting in more than 100% turnover rate. Employers offering seasonal jobs, such as picking peaches at a farm or picking crabmeats, or fast food restaurants that operate mostly with part-time workers, should not be utilizing the EB-3/EW category as the Jobs through the PERM process are required to be permanent, full-time jobs.
While the sponsoring employer could elect to accept employment period of minimum 1 year as a fair exchange for sponsoring a worker, the position should not be advertised as 6 months or 12 months only, or have a finite completion date (INA Section 203(b)(3)). All sponsoring employers seek to have the workers work for them as long as possible.
I stress that the cases of exemplary employers offering bona fide jobs should not be swept up with other employers who flaunt the rules and regulations, just as good Regional Centers should not be lumped together with examples of Jay Peak or other bad actors of the EB-5 world. We should not throw the "baby out with the bath water" by highlighting only the miscreants that abuse these programs.
The dos and don'ts of EB-3 (other) program:
Foreign national employees DO pay the legal fees associated with their immigration process, including and not limited to USCIS and DOS filing fees and attorney fees. There also are no regulations that prohibit any foreign migration (immigration consulting) agencies to be paid by the potential immigrants. Just like all Regional Centers pay $40,000 or more to the foreign migration agencies for "finding" EB-5 investors, these migration agencies may charge fees to find appropriate immigration paths for their clients and help them with their process.
Foreign national employees DON'T pay U.S. based recruiter/agent of the Employers as those fees are solely for obtaining the sponsorship not legal fees for employees' own immigration attorney. No fees can be charged in connection with obtaining a position for a foreign national with a prospective employer. This is different than paying migration agencies to provide you with immigration options and consultation service associated with the immigration process in your home country, including but not limited to gathering necessary information and documents to present to your immigration attorney.
Foreign national employees SHOULD NOT shop around for the EB-3 position that only require shortest amount of employment commitments, such as 6 months or 12-month as all jobs being sponsored is for full-time, permanent positions. Because most of the U.S. workers they hire will be gone within days or weeks of being hired, many sponsoring employers are happy to accept the minimum of 1 year commitment before agreeing to sponsor a foreign national. This does not mean the worker must leave after 12 months. In fact, many sponsored workers stay beyond their minimum time-period to be promoted and continue working and the employers welcome this. The longer you stay with the employer who sponsored you, the better for you and the employer.
There is NO requirement that an employer personally interview foreign national employees for the EB-3(Other) category. Indeed, because this category is for unskilled workers with no minimum education or experience, the employer hires all willing and able workers, both in the U.S. or overseas. Thus, the employer only requires the migration agencies to correctly inform the foreign workers of the nature of the jobs and to ascertain if the workers would become reliable, diligent workers for the employer.
In summary, everyone should remember that all EB programs are based on employment first and that any immigration benefits are secondarily derived from that employment-based program, whether working for a sponsoring employer under EB-3 or by creating jobs under the EB-5 program. The jobs come first, and it is crucial to differentiate what is acceptable and what is not with each program based on current rules and regulations.
.
About the Author:
Jinhee Wilde is the principal and managing partner of Wilde & Associates, LLC., boutique business immigration law firm. She began her 31-year career as a prosecutor, Special Counsel and Inspector General Designee for the government. She has more than 16 years as an immigration lawyer focused on employment and investment immigration. She was voted as one of the Top 25 EB-5 attorneys and Legal Superstars by Newsweek, and is on IIUSA President's Advisory Council and active in AILA. Wilde received her bachelor's degree from the University of Chicago and her Juris Doctorate from Loyola University of Chicago School of Law.