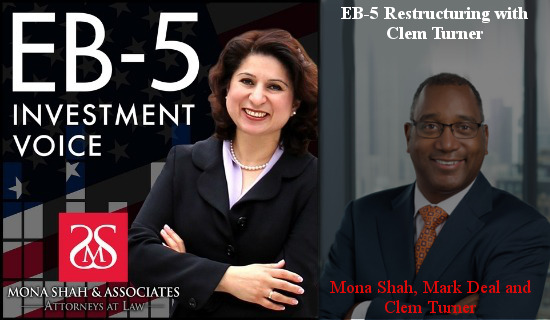 EB-5 Restructuring with Clem Turner – Episode 114
How are EB-5 projects using corporate restructuring to survive and perhaps even thrive in the midst of the economic downturn? On this episode, Mona and Mark are joined by Clem Turner from Chiesa Shahinian & Giantomasi to discuss how EB-5 projects are restructuring their debt, both with traditional lenders and debt-structured EB-5 investments. Listen in to hear how projects are using experts like Clem to restructure their debt as they weather the current economic situation.
With the heavy impact the pandemic has had and continues to have on the U.S. economy, EB-5 projects are looking to corporate restructuring experts to lighten their debt loads and ease company financial strains. These efforts are often successful, lengthening the company's ability to survive harsh economic conditions and sustain the profitability of the company. What is corporate restructuring, how can EB-5 projects benefit from pursuing restructuring options and how may it impact EB-5 investors?
Clem G. Turner is a member of Chiesa Shahinian & Giantomasi's Corporate & Securities Group and he heads their Alternative Capital Practice. He brings more than 20 years of experience advising clients at all stages of corporate development, representing newly formed and emerging companies, middle market growth companies and large public corporations from a broad range of industries – including technology, financial services, hospitality, real estate, manufacturing, health care, new media, software development, e-commerce and entertainment.
On this episode, Clem joins Mona and Mark to discuss how EB-5 projects are restructuring their debts and the role managing members play in protecting their EB-5 investors. Listen in to understand what corporate restructuring is, why it is necessary in the current economy and who has the ultimate decision power in most EB-5 corporate organizational structures.
---
What is Corporate Restructuring?
Corporate Restructuring can include either organizational or financial restructuring, or else a combination of the two. Most EB-5 projects are taking advantage of financial restructuring alone, due to an inability to service their debts. This may include evaluating the capital structure, evaluating efficiencies and inefficiencies in cash flow generation and refinancing debt.
Most EB-5 projects are structured with EB-5 investment capital as a mezzanine loan subordinated by a senior lender loan. In accordance with restructuring initiatives, the company will negotiate new loan terms with the senior lender and/or the EB-5 investors, often requesting extended repayment dates or a lower interest rate.
Almost all EB-5 projects are structured to give the manager or general partner of the New Commercial Enterprise (NCE) a large majority of the control over the company. However, in this position of power, the manager is required to take all steps necessary to meet fiduciary obligations to the non-managing members.
Clem adds that first and foremost, this duty requires the manager to protect the investor's ability to acquire immigration benefits in the EB-5 program.
Why is Restructuring Necessary?
While it is anticipated that EB-5 projects moving forward will branch away from the typical real estate project (and this writer would certainly encourage it!), many EB-5 projects in the past have been in the hospitality or residential real estate industries. For those investors of hotel projects, the current situation appears grim.
As of June 24, 2020, approximately six out of every ten hotel rooms across the country were empty. Reports indicate the U.S. hotel industry has lost an estimated $38B in room revenue and are on pace to lose $400M in room revenue each day, based on current occupancy rates and trends. This will account for an expected 60% revenue losses for the 2020 fiscal year (as reported by STR).
The CARES Act earlier this year raised the Chapter 11 (Subchapter V) debt limit to $7.5 million for a 12-month period, causing some to consider the option to declare bankruptcy and undergo court-supervised restructuring. However, pursuing Chapter 11 bankruptcy is very expensive and invasive, and companies are advised to instead pursue corporate restructuring if possible.
Who Makes the Decision to Restructure?
While the EB-5 investors have little control over ultimate decision-making in the NCE, the manager's fiduciary duties—the duty of loyalty and the duty of care—require them to act in the best interest of the company and in a reasonably prudent manner.
If the manager of the NCE makes decisions based on increasing their own profits or in favor of their own interests, rather than that of the company, they could become the defendant in a successful litigation based on breach of fiduciary duties.
It is important to note that no matter what decision is made, it is highly unlikely for all investors to agree on a course of action. Thus, Clem recommends disclosing all relevant information to the investors and listening to their feedback prior to taking corporate actions. This is also required for issuers of SEC offerings.
Mona reminds listeners that if the EB-5 positions have already been created, but now the employee has been fired or furloughed due to financial hardship, EB-5 regulations do still recognize this as a job created. The "job creation" is defined by the creation of positions rather than the employment of an individual.
Various Options Available to Companies
Loan restructuring with traditional lenders, even without a dire financial need, may be in the best interest of those companies looking to take advantage of the Federal Reserve's recent slashing of interest rate to 0%-0.25% as a result of the pandemic and resulting economic strain.
Companies may also be interested in acquiring capital from private equity and hedge fund firms actively seeking opportunities to finance companies with riskier debt profiles that need cash and are willing to pay higher interest rates.
EB-5 capital, on the other hand, is an excellent option for these companies looking to acquire private equity but uncomfortable with the higher interest rates or additional imposed burdens. With the minimum EB-5 investment amount at $900,000, EB-5 projects may only require a few investors to provide the requisite amount of funding and may negotiate a reasonable rate with these investors.