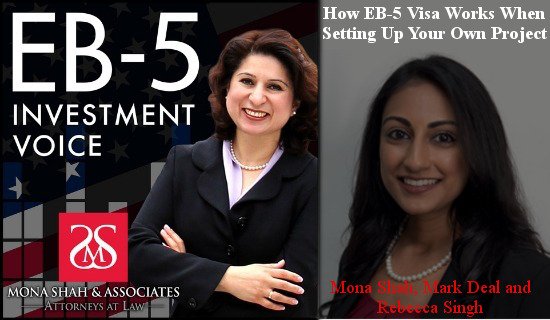 How EB-5 Visa Works When Setting Up Your Own Project – Episode 113
What are the benefits and challenges in pursuing an EB-5 visa through an entrepreneurial standalone project, rather than a pooled project? On this episode, Mona and Mark are joined by Rebecca Singh from Mona Shah and Associates Global to discuss how investors are considering pursuing their own EB-5 project and the complexities involved with creating new jobs, spending their invested capital and conforming to USCIS regulations. Listen in to understand the advantages and disadvantages of entrepreneurial project investments versus pooled projects, and how to decide which type of project is right for you.
On this episode of EB-5 Investment Voice, Mona, Mark and Rebecca sit down to discuss entrepreneurial EB-5 projects—why these projects are becoming so popular, the importance of thorough and properly prepared project documents and the common pitfalls entrepreneurs often encounter in putting together their own project. Listen in for insights from EB-5 industry experts on how you can put together a successful EB-5 entrepreneurial project that will not only satisfy USCIS scrutiny and deliver a permanent green card, but also provide the beginnings of a successful and lucrative business in the United States.
---
What are Entrepreneurial Direct EB-5 Projects?
While immigrant-investors may choose to make a passive investment into a Regional Center pooled project, many of these investors with an entrepreneurial streak would rather utilize their skills and expertise in starting their own project.
While Mona assures potential entrepreneur-investors that developing their own project is difficult, it is not too difficult and certainly not impossible. These types of projects were far more difficult when the minimum EB-5 investment was $500,000 USD, as sustaining ten full-time jobs for two years incurs a substantial cost in salary alone.
Under the new $900,000 USD minimum investment level, it is far more reasonable, and this is causing entrepreneur-investors to consider developing their own projects rather than choosing the passive pooled projects.
What Are the Job Creation Requirements?
As with any non-Regional Center project, the operations of the project must create ten full-time jobs (minimum of 35 hours per week) per investor. It is imperative to understand that these jobs must be reasonable and customary in terms of industry standards. Hiring multiple receptionists when you only need one will not persuade USCIS.
Mona also points out that while many investors include office cleaning services or IT support in their initial job count, these types of positions are more commonly filled by independent contractors or service providers, and thus cannot be counted as EB-5 jobs.
One of the most common questions from investors is whether, rather than starting a new project from the ground-up, they can purchase an existing business for their EB-5 project. USCIS regulations only allow this method of EB-5 investment under very specific circumstances, namely, that the existing company is a troubled business.
To be considered a troubled business, the entity must (1) have been in existence for at least 2 years; (2) have incurred a net loss for accounting purposes (using generally accepted accounting principles) during the 12-month or 24-month period; and (3) have a loss for the same period at least equal to 20% of the troubled business's net worth prior to the loss. These stringent requirements can be difficult to satisfy.
As discussed on the prior podcast, the EB-5 industry is beginning to recommend the bifurcation of project adjudication from immigration adjudication, as USCIS officers are simply not qualified to evaluate complex business operations.
The Importance of Project Documents
It is vitally important that all project documents are EB-5 compliant and, if issued as a private offering, SEC compliant. If entrepreneur-investors do not engage EB-5 industry experts and practitioners to prepare their documents, it is almost certain that compliance issues will arise during USCIS adjudication.
In the event of a dispute, the Operating Agreement will be the governing document, and thus it is imperative that this document is properly and thoroughly drafted.
Though USCIS has never definitively stated that it will adjudicate direct entrepreneurial projects faster than any other, MSA has seen a number of instances in which adjudications for these projects occurred faster than pooled projects. Rebecca notes this may be due to these projects being simpler and more concise, allowing USCIS to review the documents quickly.
Though there is no published evidence, León Rodríguez, Director of USCIS, mentioned in a prior podcast that he believed the majority of fraud in the EB-5 industry occurs within entrepreneurial project investments.
Success Can Be Achieved
While there are challenges to preparing a strong, approvable entrepreneurial project, it is a valuable option for investors with a background in business and with a desire to be actively involved in their EB-5 investment. With this method, an investor may be able to receive far larger returns on their investment and for a much longer term than the customary five years.
The main tenants of a strong EB-5 project include a thoroughly prepared business plan with reasonable objectives and plausible evidence of future job creation. Interestingly, it is not only USCIS officers that must be convinced of this job creation, but also consular officers, which have been known to question a project's job creation in entrepreneurial projects (though not with Regional Center projects).
It is also essential that entrepreneur-investors recognize the pitfall of making material changes. EB-5 projects need to have concrete, reliable proposals and these plans cannot be changed on a whim.
It should also be noted that entrepreneurial projects can rent and use a Regional Center to count indirect and induced jobs if direct job creation is an issue. While this component does add additional costs, the cost of utilizing a Regional Center may—in the long run—be less than the salary, tax and benefits costs associated with sustaining ten direct job positions.
To create a successful EB-5 project, the most important factor is the team of industry experts and specialists you put together. As Mark states, "the teamwork makes the dream work!"