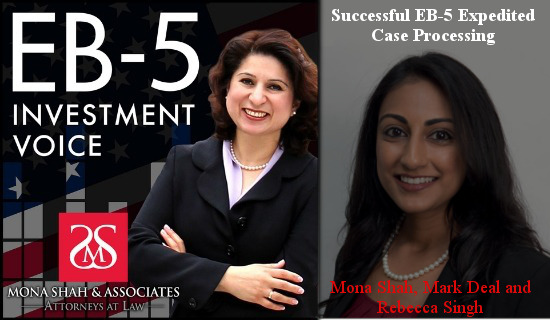 Successful EB-5 Expedited Case Processing – Episode 115
USCIS Regulations state that expediting a benefit request may be considered if it meets one or more of the following criteria: Severe financial loss to a company or person (in very specific circumstances), urgent humanitarian reasons, a compelling U.S. Government interests, or clear USCIS error. On this episode, Mona and Mark are joined by Rebecca Singh from Mona Shah and Associates Global to discuss how EB-5 investors are considering requesting expedited processing if they are actively involved in the treatment or care of COVID-19 patients. Listen in to understand how you may qualify for expedited processing and how to submit your request before the deadline.
On this episode of EB-5 Investment Voice, Mona, Mark and Rebecca sit down to discuss expedite requests for EB-5 petitioners as well as EB-5 projects and why this option has become particularly popular during the COVID-19 pandemic. Listen in for insights from EB-5 industry experts on what is required to successfully expedite your case, how to request expedited processing with USCIS and recent Federal commentary—both on the Hill and from the Department of Homeland Security.
---
How to Qualify for an Expedite Approval
In the past, we have discussed filing a Writ of Mandamus as a way to leverage litigation to address the I-526 egregious processing delays.[1] However, there are alternative methods to speed up processing; one such method is Expedited Processing, which is comically referred to as a "Pretty Please" in relation to litigation's "Get This Done!"
The Expedite Criteria listed in Part A of Volume 1, Chapter 5 of USCIS Regulations includes the following criteria: (A) Severe financial loss to a company or person, provided that the need for urgent action is not the result of the petitioner's or applicant's failure: (1) to file the benefit request or the request to expedite in a reasonable time frame; or (2) to respond to any requests for additional evidence in a reasonably timely manner; (B) Urgent humanitarian reasons; (C) Compelling U.S. Government interests (such as urgent cases for the Department of Defense or DHS, or other public safety or national security interests); or (D) Clear USCIS error.[2]
USCIS attempts to respond to an expedite request within 15 days, whether to approve or deny the request. Upon approval, a final adjudication of your case is supposed to occur within 45 and 60 days, though sometimes it takes far longer.
Not to be confused with premium processing, which is not available for I-526 Petitions, expedite requests are the only non-litigation option for EB-5 investors.
Recent Federal Activity Related to COVID-19 and Immigration
On March 28, 2020, the U.S. Department of Homeland Security's Cybersecurity & Infrastructure Agency (CISA) issued an Advisory Memorandum on Identification of Essential Critical Infrastructure Workers during COVID-19 Response (the "Memo").[3] Included in the Memo is a list of "Essential Critical Infrastructure Workforce", not considered exclusive, with are considered vital to the public health and safety of the country based on consultation with federal agency partners, industry experts and State and local officials.
Included in the Memo's list are "healthcare providers including, but not limited to, physicians; dentists; psychologists; mid-level practitioners; nurses; assistants and aids; infection control and quality assurance personnel; pharmacists; physical, respiratory, speech and occupational therapists and assistants; social workers; optometrists; speech pathologists; chiropractors; diagnostic and therapeutic technicians; and radiology technologists."
The Health and Economic Recovery Omnibus Emergency Solutions Act (HEROES Act) is proposed legislation that was passed by the United States House of Representatives on May 15, 2020 and includes Section 191204: Supplementing the COVID Response Workforce.[4] While still a Bill, it instructs federal agencies to "prioritize" processing of applications by people who are identified as Essential Critical Infrastructure Workers, in accordance with humanitarian health assistance needs.
The deadline is 180 days after the termination of the emergency.
Expedited Processing for Individuals versus Projects
Individuals can send an expedite request with their I-526 petition at the time of filing or send the request after their petition has already been filed, as many petitioners are doing now.
To do so, a request must be made via phone to the USCIS Service Center, which will issue a Expedite Request Confirmation Number. The Center will then follow up with an email instructing the petitioner to send supporting documents via email to support why they qualify for expedited processing.
Many doctors or healthcare professionals involved in the treatment and care of COVID-19 patients have a strong case for expedite at this time under the criteria of both urgent humanitarian reasons and compelling U.S. Government interests.
Meanwhile, expedited processing for an entire project is very difficult to achieve.
Projects that may be able to overcome these high standards may be those providing services related to the emergency, such as a drone project that endeavors to deliver medications or vaccinations to people at their homes or other projects relating to the treatment of COVID-19.
Some developers have tried to show sever financial loss associated with having to acquire a bridge loan, however this is not a very convincing expedite justification to USCIS. In addition, projects must show actual sever financial loss, not the potential of such loss.
---
[1] https://mshahlaw.com/how-litigation-can-help-eb-5-episode-93/
[2] Volume 1, Chapter A: Chapter 5 – Requests to Expedite Applications or Petitions. https://www.uscis.gov/policy-manual/volume-1-part-a-chapter-5
[3] Advisory Memorandum on Identification of Essential Critical Infrastructure Workers during COVID-19 Response. March 28, 2020. https://www.cisa.gov/sites/default/files/publications/Version_3.0_CISA_Guidance_on_Essential_Critical_Infrastructure_Workers_1.pdf
[4] Health and Economic Recovery Omnibus Emergency Solutions Act (HEROES Act). HR6800. https://www.congress.gov/bill/116th-congress/house-bill/6800/text