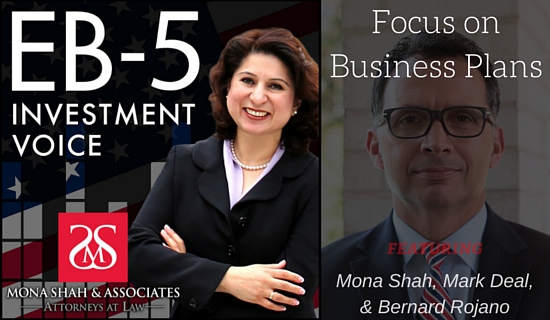 Focus on Business Plans – Episode 11
EB-5 is all about the documents.
One of the most important documents is the business plan.
Join us for a discussion with Bernard Rojano on EB-5 business plans.

A business plan is vital is any business. They are used to clarifying critical aspects of a business, establish goals and future objectives. By clarifying the purpose of the business a business owner can understand what needs to be done to achieve these goals. Investors and banks can also use the business plan to review financial data in order to see how economically feasible the business is.
While the same basic principle is true for EB-5 business plans, it is a much more complicated and involved process. Many times, when an investor receives a Request for Evidence (RFE) or a denial from the U.S. Citizenship & Immigration Service (USCIS) it is due to problems with the business plan. The business plan needs to clearly explain what the business is and must address the specific points laid out by USCIS. In the end, it is worth the investment to have an experienced EB-5 professional working on the business.
Special guest Mr. Bernard Rojano of Xecute Business Solutions joins the discussion on EB-5 visa business plans. His years of industry experience allows for a unique insight and understanding into the process, which help to clarify an already complicated process.
1:45 Mr. Rojano introduces himself. His background in mergers, acquisitions, and business development lead him to form Xecute Business Solutions in 2008. The company provides business planning and business modeling for EB-5 direct investors and regional centers throughout the United States.
2:35 There has been a continued increase in the amount of direct investment business plans. In 2015, thirty to thirty-five percent of the company's work was related to direct investment projects.
3:20 Some of the differences between an EB-5 business plans and more traditional business plans, like those used for a bank loan, are discussed.
4:15 With time, it becomes clear what the USCIS wants to see in EB-5 business plans – particularly in regard to job creation and qualifying investments.
5:25 The business plan cannot be a marketing documents meant to attract investors. It needs to address and explain the businesses operational aspects, day-to-day characteristics, and who's involved in running the business.
6:10 Mark and Mr. Rojano discuss what the USCIS adjudicators are looking for and how that differs from a traditional business plan.
7:15 It is vital to have third party verification of the information that is presented within the plan.
7:55 The business plan must be written in a way that proves everything that is proposed. The information needs to be concise, as if the person reviewing the plan will never speak to the business people for clarification.
9:00 Mona points out two important things to remember when preparing an EB-5 business plan: 1.) exhibit material isn't always necessary is the text is succinct, and 2.) redundancy is OK – in this case, it is better to have more.
10:45 What is the typical length of an EB-5 business plan? As short as possible without missing the story – they should proactively answer the adjudicators questions without burying the information. Plans prepared by Mona Shah and Association average around 100 pages; the standard at Xecute Business Solutions is 60-80 pages but more complex plans can be 150-200 pages.
12:35 EB-5 business plans, especially entrepreneurial plans, reference and leverage multiple documents. When these documents are necessary and how they are incorporated is discussed.
13:45 A business plan highlights the business and shows how credible it is and can be used to show necessary Matter of Ho credibility.
14:30 Mark and Mr. Rojano discuss some of the major differences between the multiple EB-5 types including: Direct Entrepreneurs; Pooled Directed Investments; and Regional Centers.
17:50 The vast majority of problems in entrepreneurial cases and cause R.F.E.'s or outright denials are: corporate structure and job descriptions.
18:20 It is important to be as detailed as possible, the adjudicator must clearly understand how jobs are created and the associated timeline.
19:50 Although mistakes happen, business plans, especially direct investments, must be very clear and tie-in, with the financial data, to the narrative.
20:20 Mr. Rojano explains the steps his company takes to ensure accuracy. They will bring in outside financial professionals in order to develop a better or more accurate model. This also ensures the USCIS that an outside group was engaged and makes the plan more credible.
21:20 Mark and Mona discuss what some of the biggest problem areas with EB-5 petitions.
21:30 Purchasing a business and counting the existing employees. Investors must have the ability to improve and grow the business.
23:35 Mark asks Mr. Rojano to explain what the risk of using someone who is not experienced with EB-5s.
25:00 Mr. Rojano explains some of the problems associated with having a CPA write a business plan for an EB-5 investment.
26:25 Mr. Rojano and Mona discuss some of the issues and nuances of EB-5 including the trends and instinct about the adjudicators and the process.