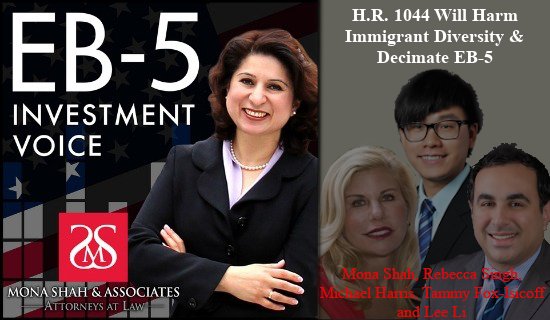 H.R. 1044 Will Harm Immigrant Diversity & Decimate EB-5 – Episode 131
What is H.R.1044? And, what is going to be its impact on Employment-Based (EB) visas? On this episode, Mona, Rebecca and Mark are joined by Tammy Fox-Isicoff, Michael A. Harris, and Lee Li to discuss the specifics of the bill and its expected impact across all EB visa categories, particularly the EB-5 program. Listen in to understand how you may be impacted if this bill becomes law, and why it will cause great harm to U.S. immigration.
Supported by Big Tech, this Bill has garnered significant support in Washington by leaning on the industry's lobbying prowess. The narrative surrounding the Bill only focuses on the short-terms gains for a sub-set of immigrants, while overlooking the large-scale and long-lasting harm and disruption that it will cause to Employment-Based immigration as a whole. And so, it is important to understand the specifics of the Bill (as passed by the Senate), the devastating impact it will have on the diversity of immigrants, the proportional allocation of EB visas across all categories, and how it will undermine the objectives of the EB-5 program – leaving it operational in name only.
Michael A. Harris is a Florida Bar Board Certified Specialist in Immigration and Nationality Law based in Miami, Florida, with a law practice centered in business and investment immigration. His awards include having an AV Preeminent Peer Rating from Martindale-Hubbell, as well as being named a Top EB-5 Immigration Lawyer in 2019 by eb5Investors.com, and named a Top Immigration Lawyer by Best Lawyers in 2020. Mr. Harris serves on the executive committee as a member of the board of directors of AILA South Florida, and is a member of the board certification committee on Immigration & Nationality Law for the Florida Bar. He has served as chair, co-chair, vice chair, and a member of numerous AILA South Florida committees. Mr. Harris received his Juris Doctor Degree from Nova Southeastern University in Ft. Lauderdale, Florida in 2007. Since 2012, he has managed his private law practice, and since 2015 has been Of Counsel to Diaz Reus, a top international law firm, in Miami. Mr. Harris has taken part in the representation of highly complex immigration matters, including a substantial practice involving the EB-5 Immigrant Investor Program.
Tammy Fox-Isicoff is a former Trial Attorney for the United States Immigration and Naturalization Service and Special Assistant United States Attorney. Tammy has been selected by Best Lawyers as the Best Lawyer in Immigration Law in S. Florida in 2012, 2016, 2019 and 2021. SuperLawyers has recognized Tammy as one of the top 50 women lawyers in Florida. Tammy holds an AV® Preeminent™ Peer Review RatedSM by Martindale-Hubbell® and has been continually listed in The Best Lawyers in America, Chambers Global, South Florida's Top Lawyers, SuperLawyers and International Who's Who of Corporate Lawyers The National Association of Distinguished Counsel has recognized Tammy as being in the top 1% of attorneys in the entire U.S.
Lee Li joined IIUSA in 2014 as a Policy Analyst. He leads the association's research and data analytic initiatives, providing regular reports on USCIS processing trends, EB-5 visa usage, waiting line forecast, investor markets analyses, and more. In addition, he manages IIUSA's extensive industry data library and develops a variety of interactive maps as well as data dashboards to inform EB-5 policy discussions such as reforming Targeted Employment Areas (TEA). Lee also led the publication of the latest peer-reviewed EB-5 economic impact study in collaboration with Western Washington University in 2018. As the administrator of the member portal, Lee is the unofficial "IIUSA tech Jedi." Lee received a Master of Science in Government Analytics from Johns Hopkins University and holds a Master of Public Policy from Loyola University Chicago. Originally from China, he speaks Cantonese and Mandarin in addition to English.
---
Impact of the Bill:
H.R.1044, Fairness for High-Skilled Immigrants Act, is anything but fair as it will effectively kill the EB-5 program and all other employment-based categories.
It will eliminate caps that prevent any one country from receiving more than 7% of green cards annually for high-skilled workers.
It will effectively exclude essential skilled workers from all countries other than China and India, as these two countries dominate the visa backlog.
While eliminating the caps would reduce the backlog for nationals from India and China, it would shift that backlog onto nationals from the rest of the world—adding years of delays and effectively devastating both the EB-5 program and other employment-based visa categories.
Another consequence of this short-sighted bill would be to prevent highly skilled immigrants in high-need areas, such as health care and medical research, to be shut out of residency for well over a decade
Impact on EB-5:
COVID-19 has created a juncture where an economic boost and job creation is critical, something the EB-5 Program is well situated and equipped to provide.
Rather than encouraging this foreign direct investment, elimination of the caps will add several years of additional wait times to the already long timelines for existing and future EB-5 investors.
A bill such as this would handicap the program and its ability to maximize its potential and to meet its congressional intent. An alternate solution would be to provide more visas. As drafted, H.R.1044 is a short-sighted workaround that would further frustrate employment-based immigration.
Need for Action:
The present version of the bill is certainly not the same as the House counterpart, H.R.1044. The amendments will cause the bill to be sent back to the House for approval.
It is more likely that this legislation will die and efforts would have to begin all over again with a new Congress and new Administration sworn in on January 3 and January 20, 2021. But given the significant push from Big Tech and corporate interests, it is safe to predict that the battle lines will be drawn again as this legislation is likely to reappear in 2021.
The manner in which this bill has been drafted would have an adverse impact on many individuals from countries that are not currently experiencing immigrant visa backlogs. Hardworking people from all countries, including India, who have invested their savings for their families and children brighter future will also suffer.
Act Now:
Understand the impact of this bill, by going over the following resources:
If you reside in the U.S., get in touch with your representative Member of Congress and inform them about the true impact of this bill, why you oppose it, and ask them to vote against this bill.
Sign and support our petition on change.org: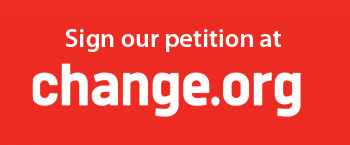 (https://www.change.org/p/mike-lee-don-t-kill-u-s-employment-visas-and-eb-5-with-s-386-h-r-1044?signed=true)
Spread the word in your community and ask them to take the same measures.