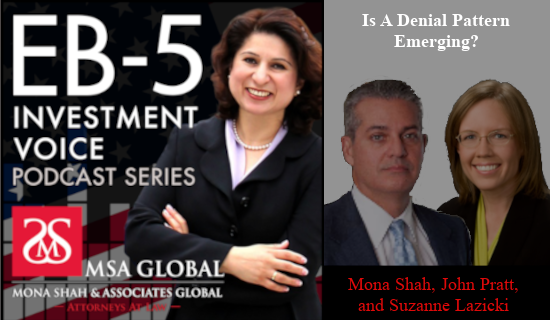 Is A Denial Pattern Emerging? – Episode 169
Continuing EB-5 Investment Voice's series of unfortunate events, this week we are taking a deep dive into the recent string of denials issued by USCIS. In this episode, Mona is joined by two titans of the EB-5 industry, John Pratt and Suzanne Lazicki. Together, they are dissecting the recent numbers and quarterly reports to find any patterns in USCIS's adjudication process, while also providing their insight into the denial response process and how to make your petitions as strong as possible to get them approved.
Below is a snippet of the conversation:
Suzanne: "Why is it that all of a sudden we're looking at so many denials? And one thing we can conclude is that Direct EB-5 cases are being denied at a higher rate than Regional Center cases. Another thing to keep in mind is that when USCIS reports denials, it's actually a number that includes both denials and withdrawals. My estimate from an unpublished source is that they've actually accounted for about half of the denial numbers. So we're not only looking at USCIS adjudication standards for direct EB-5, but also looking at the number of people who just gave up during the Regional Center program shut down and withdrew their petition."
Mona: "So looking at this pattern and some of these denials, I know you've done a little bit of an analysis on what you've seen. What are you coming up with?"
Suzanne: "One interesting point that has come out in Freedom of Information Act data reported by IIUSA is that there is a country specific denial factor…."
John: "Different societies and different countries have different ways of banking or tax returns, et cetera. USCIS has picked up on these differences and countries where they use currency swaps or different non-traditional money exchanges are suffering from difficulties in overcoming some of these RFEs."
Guest Speakers
John Pratt received his Bachelors of Arts from Florida State University with honors in 1994. He graduated from Tulane University School of Law, receiving his juris doctor degree in 1997. Mr. Pratt also studied abroad at the University of Paris, and is fluent in Spanish. Mr. Pratt is admitted to the bar of the State of Florida, District of Columbia, United States District Court for the Southern District of Florida, United States Court of Appeals for the Eleventh Circuit, United States Court of Appeals for the Ninth Circuit, and United States Supreme Court. He is a member of the American Immigration Lawyers Association, and the American Bar Association.
Suzanne Lazicki is a business writer, EB-5 expert, and the owner of Lucid Professional Writing. Ms. Lazicki founded Lucid Professional Writing in 2009, and started the blog the following year as a way to keep her EB-5 clients informed about industry developments. The blog aims to provide material support for EB-5 plans and decisions, and to promote the integrity of the EB-5 program. Over the past decade, Ms. Lazicki has written hundreds of business plans and market reports, and gained intimate familiarity with the law, policy, and industry around immigrant investment.