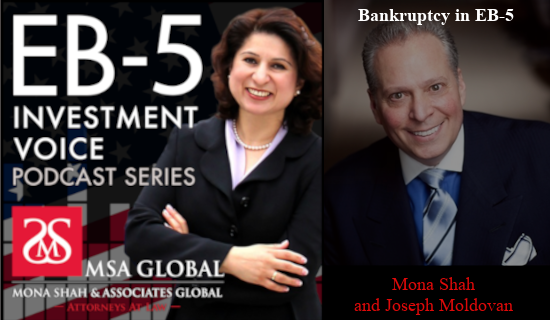 Bankruptcy in EB-5 – Episode 170
One of the main requirements of EB-5 is that the investment remains "at risk." But what happens when the risk does not turn out in the investor's favor and the project declares bankruptcy? In today's episode of EB-5 Investment Voice, we continue our 'Series of Unfortunate Events' by exploring the bankruptcy of an EB-5 project. Mona Shah is joined by attorney Joseph Moldovan (Morrison Cohen LLP) to discuss the bankruptcy process, how EB-5 investors are impacted, what options creditors have, and more. 
Below is a snippet of the conversation:
Mona: Joe, I have a question for you though. You know, we have a limited time in EB-5 in the sense that once the money has been put in and once the case has been adjudicated for an EB-5 investor, they only have a limited time to create jobs. So, if a project does go into the bankruptcy process, you know, chapter 11 for example, restructuring, does that delay the process?
Joseph: No Mona, it really should not. The beauty of the U.S. bankruptcy process is it is business as usual – supervised by a bankruptcy court, but it is business as usual. If there is a construction project that is in process, as long as that project has sufficient capital in order to finance it going forward, that project will continue.
The project does not stop. It only would stop if money runs out, but that's not particularly a bankruptcy issue. That's an issue with any kind of construction project. So long as there's financing that can be made available to continue a project, bankruptcy does not stop it. In fact, bankruptcy can enhance the ability of the project to be completed because bankruptcy stops all lawsuits against the company.
Guest Speaker
Joseph Moldovan is the Chair of the Business Solutions, Restructuring & Governance Practice at Morrison Cohen. He leads a team consisting of veteran bankruptcy, corporate, finance, litigation, benefits, and tax professionals in a multidisciplinary approach to a national bankruptcy practice. A significant portion of his time is spent advising boards of directors, special committees, audit committees, compensation committees, independent directors, chief executive officers, company founders, and other members of senior management with respect to their duties and obligations to, and exposures in connection with, financially troubled companies or acquisition targets, and in connection with securities transactions, SEC investigations, and related regulatory matters.