MONA SHAH, ESQ.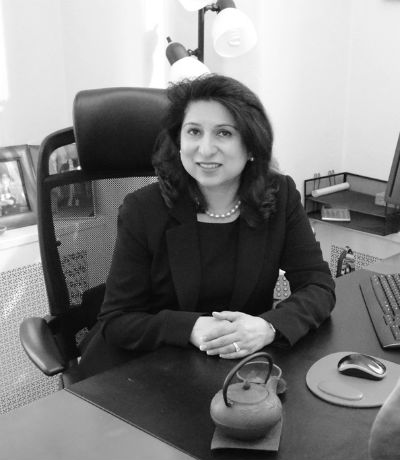 Born in the UK, Mona graduated from the University of Northumbria in England (UK) in 1990. Mona was admitted as a Solicitor of the Supreme Court of England & Wales in 1993 and was admitted to the New York Bar and the United States Federal Bar in 1997.
While in England, Mona trained with various firms before her appointment as a Crown Prosecutor with the British Crown Prosecution Service. After moving to New York, she established Mona Shah & Associates Global (MSA Global) in 1997. Mona has over 26 years of legal experience.
Highly proficient and recognized as an industry leader in EB-5 law, Mona has attained many accolades and awards: she was voted Top 25 EB-5 attorneys by EB-5 Investors Magazine eight years in a row; recognized as a Top Lawyer by Who's Who, International and as a 'Top Attorney of North America'.
Mona is a Lexis Nexis Practice Advisory Editor, and a published author. Mona has written numerous articles and blog pieces in all aspects of EB-5 immigration law as well as the corporate and securities aspect.
Mona has also spoken extensively, both in the US and overseas. Mona has been interviewed by mainstream television, including Al Jazeera and Fox Business news and has been quoted by major newspapers and publications including the New York Times, the Real Deal, Axios, Bloomberg and many others. Mona has been featured on the cover of foreign magazines, including Biz-Life and EB-5 Supermarket. Mona was the co-editor of the BLS publication: Trade & Investment, the EB-5 Gateway.
Mona also pioneered and hosts the first and longest podcast series (spanning over 6 years) that focuses on foreign direct investment and EB-5. She has been honored for her work by various groups and non-for-profit organizations.
Mona's extensive knowledge of all facets of U.S. immigration law and her practical expertise ranges from specialist business petitions to convoluted, multi-issue deportation and removal litigation to complicated corporate and securities issues in EB-5 petitions.
Her firm, Mona Shah & Associates Global, represents individual, high profile and corporate clients from all over the world. Mona and MSA Global have raised millions of dollars for projects in the US.
Mona's substantial litigation background includes her representation of clients in both state and federal courts on the trial and appellate levels. She has litigated in over 9 states and the District of Columbia and handled complex immigration law appeals before the United States Circuit Courts of Appeal for the Second, Third, Fifth, and Eleventh circuits. Mona has wide-ranging litigation experience, including Alternative Dispute Resolution (ADR) as well as trial-court experience on both the trial and appellate levels, in both State and Federal courts.
Mona's extensive experience in EB-5 began in 2006; Mona was also one of the 4 original founders of the first regional center in New York –New York City Regional Center, thereafter she founded the second regional center — the New York Immigration Fund, RC. Today, Mona Shah & Associates formulates structures and handles EB-5 project work for multiple projects, both direct and regional centers; trouble shoots problematic cases for attorneys and regional centers, as well as handling multiple EB-5 Investor petitions. Mona has been notorious for handling projects in unique and novel industries, facing challenges head on.
Mona is a member of the Presidential Advisory and Public Policy Committees for IIUSA Mona is also a part-time Adjunct Professor at the Business School of Baruch College, City of New York University, where she teaches EB-5 law.
Mona is a member of legal organizations in both the United States and England (UK). She is a member of the Law Society of England and Wales; the American Immigration Lawyers Association; the Federal Bar Association; the New York County Lawyers Association; the American Bar Association; and the International Bar Association.