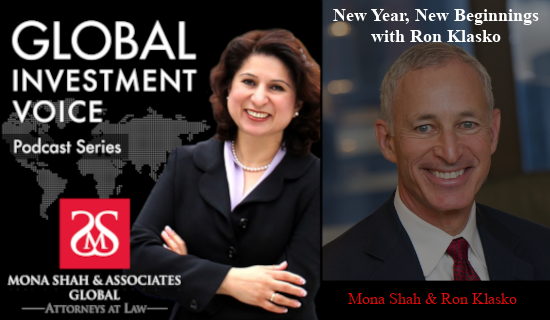 New Year, New Agenda? What to Expect in 2022 – Episode 152
After a particularly chaotic year for the EB-5 community, a lot of change could be on the horizon in 2022. For the first episode of the new year, Mona Shah is joined with Attorney Ron Klasko (Klasko Immigration Law Partners) to discuss what the future looks like for the EB-5 community, including Regional Center reauthorization, investment minimum amounts, and more! Listen in as Mona and Ron share their expertise and industry insights to detail what EB-5 stakeholders could experience this upcoming year.
Ronald Klasko is one of the U.S.'s leading lawyers representing treaty investors (E-2) and green card investors (EB-5). He leads his firm's EB-5 Team and has represented thousands of investors, over 50 regional centers, and numerous U.S. developers in the EB-5 program. Ron was the lead attorney on the Matters of Walsh and Pollard case, the key precedent for E-2 visas.
Klasko Immigration Law Partners is the North America Regional Representative office of the Investment Migration Council, of which Ron also serves on the Governing Board. Ron is currently chair of AILA's High Impact Litigation Committee, is a past President and General Counsel of AILA, and served five terms as Chair of the EB-5 Committee.
Ron is known for pioneering innovative immigration solutions and regularly speaks on investment migration around the world. Under Ron's leadership, Klasko Immigration Law Partners, LLP is regularly chosen by Chambers Global and U.S. News and World Report as a top-tier business immigration firm. He is the only lawyer twice honored with AILA's Founders Award.