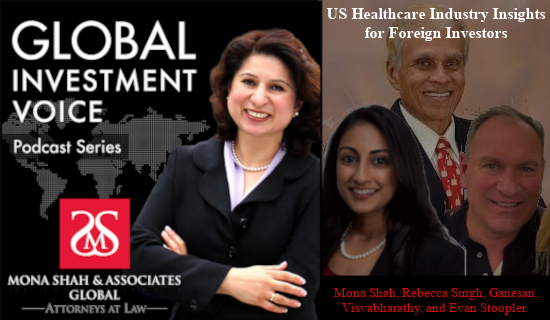 US Healthcare Industry Insights for Foreign Investors – Episode 153
In the first installment of the Industry Insights Series, Mona and Rebecca take a deep dive into the US healthcare industry. How versatile is the industry? Is it truly "recession proof"? Where does funding come from? How does job creation work? Mona and Rebecca answer these questions and more to give prospective foreign investors a look into what makes the US healthcare industry so unique.
Guest Speakers
Dr. Ganesan Visvabharathy (popularly known as "Dr. Vish") has been serving the real estate development industry over the past thirty years. During this period, his development firm, under the brand names of "Vilas" and "Hawthorne", has built or re-built thousands of condominium/apartment units serving various market segments. The firm's focus has always been on sustainability, as evidenced by the fact that 70% of their development work was focused on rehabilitation, renovation, reconstruction, and redevelopment. Additionally, the firm's mission is solely on building Passive, Net Zero Green communities, and Dr. Vish has aptly been called the "King of Net Zero". While achieving Net Zero, all construction of Hawthorne also follows the National Green Building standards, and the passive house certification enables the highest level of indoor air quality, especially important in the present Covid-laden environment for senior facilities. Dr. Vish holds a Bachelor's in Electrical Engineering, an MBA, and a Ph.D. from the University of Illinois, Champaign.
Mr. Evan Stoopler, Managing Partner of George Washington Immigration Group, LLC, is a results-driven professional with 24 years of business experience with extensive expertise in the financial sector, business development, and financing. His areas of expertise include: strategic planning, market planning, financial analysis and budgeting, competitive analysis, business financing, and the development of business financing packages. After graduating from the University of Maryland in 1987 with a B.A. in Finance and Economics, Mr. Stoopler served as securities broker or trader for various broker/dealer firms. Since September of 2003, Mr. Stoopler is a proprietary trader of securities for his own account and has been involved as an investor in other commercial businesses enterprises