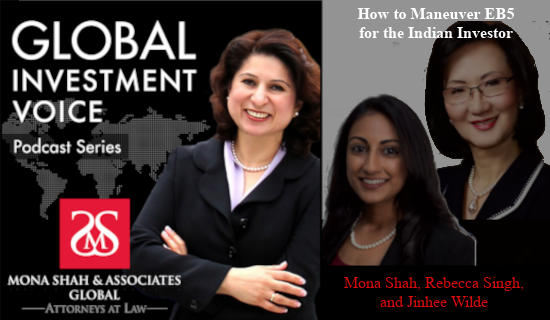 How to Maneuver EB-5 for the Indian Investor – Episode 151
The United States is one of the most popular destinations for Indian immigrants, so why are there so few migration options available for them? With extensive H-1B backlogs and the inability to apply for E-2 visas, the EB-5 program makes a lot of sense. In this episode, Mona Shah and Rebecca Singh, attorneys at Mona Shah & Associates, are joined by attorney Jinhee Wilde to discuss visa options for Indian immigrants and breakdown the EB-5 process. From making your initial investment to receiving your green card, this episode discusses it all.
Jinhee Wilde is the founder of WA Law Group, a Maryland based boutique law firm specializing in immigration law. Prior to entering private practice over two decades ago, Jinhee established herself as a prosecutor for Chicago, an Inspector General designee, a special counsel and an attorney advisor for the U.S. Department of Agriculture. Jinhee established her firm as Wilde and Associates in 2009. Consistent growth called for a name change in 2018, when she renamed the firm WA Law Group. WA's team of attorneys bring 30 years of combined experience, and the ability to provide a full suite of immigration legal services. Jinhee is consistently named among the Top 25 immigration lawyers in the country.