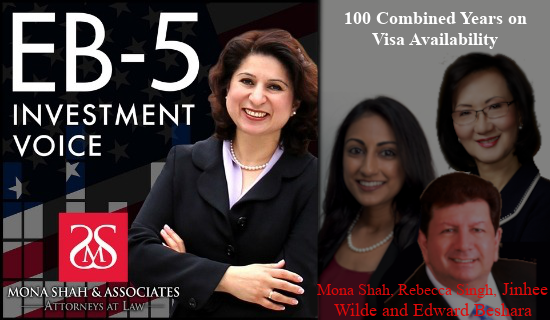 100 Combined Years on Visa Availability – Episode 127
Since the release of the October 2020 Visa Bulletin by the Department of State (DOS) on September 24, 2020, which showed significant movement in the dates for Chart B, there has been excitement by those anticipating an end to the long visa wait time in the EB-2 and EB-3 visa categories. While this certainly comes as good news, the difference between the significance of Chart A and Chart B must be understood to fully comprehend this advancement and how it will affect you and your family. On this episode, Mona, Rebecca, and Mark are joined by Jinhee Wilde and Edward Beshara to discuss the effect of the two Charts and the recent movement, as well as the Child Status Protection Act (CSPA) and "age out" concerns. Finally, the discussion turns to the continued closure of some consulates and the increasing level of scrutiny from USCIS on adjustment of status petitions when coming into the US on a Visitor's Visa.
Jinhee Wilde is the founding partner of WA Law Group LLC, a Maryland-based immigration law firm focusing on business and investment immigration. Jinhee Wilde became a lawyer 34 years ago first as a prosecutor for the city of Chicago and then as a Special Counsel and Attorney Advisor for USDA. After leaving the government sector, she represented multi-national corporations in negotiating multimillion-dollar deals. Focusing on immigration law for the past 20 years, she brought her exceptional and diverse legal experience to help the U.S. businesses and individual immigrants. She has been named as one of the Top 10 or Top 25 immigration lawyers year after year because of her exceptional client service as well as her stellar record of approvals. Her work is so detailed that she only received 3 RFEs on SOF in 12 years of doing EB-5 cases. Jinhee Wilde received her bachelor's degree from the University of Chicago and juris doctor from the Loyola University Chicago School of Law.
Edward Beshera of BesharaPA Global Migration Law Firm has been committed to offering approvable solutions to ensure a successful approach to obtaining U.S. Business and Family visas, and Citizenship and Residency by Investment for 37 years. Mr. Beshara manages an experienced team of professionals, including immigration attorneys, economists, business plan writers, securities and corporate attorneys, and certified public international tax accountants. Member of the Global Migration Section (GMS) of AILA. Past president of the Central Florida American Immigration Lawyers Association (AILA) Chapter and served on its National EB-5 Conference Committee and Global Migration Steering Committee. He is an active member of IIUSA (Invest in the USA) and serves on its Investor Markets Committee and Best Practices Committee and a member of the Advisory Committee and Task Force of the Investment Migration Council (IMC), Geneva, Switzerland. Mr. Beshera formerly served as an Adjunct Professor of Business Immigration Law at the University of Florida Levin College of Law and has been ranked among the Top 25 EB-5 Immigration Attorneys in the U.S. by EB-5 Investors Magazine. He was the recipient of the IIUSA 2019 Award for Economic Advancement "Innovator Award" and has spoken on many national and global EB-5 panels and authored many EB-5 articles.
---
For more information about the effect of Charts A and B and the recent jump in dates for employment-based EB-2 and EB-3 categories, as well as how USCIS has recently increased the filing fees associated with the adjustment of status, please read the EB-5 Versus EB-2/3 article written by Rebbeca Singh, Esq. available at https://mshahlaw.com/eb-5-versus-eb-2-3/