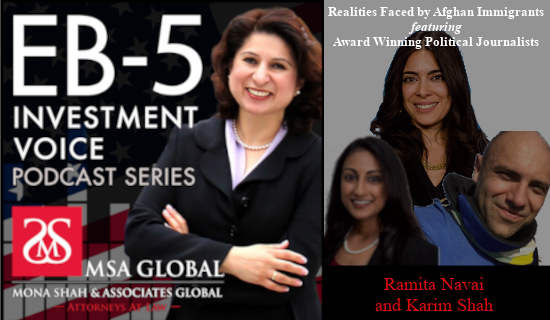 Realities Faced by Afghan Immigrants – featuring Award Winning Political Journalists – Episode 167
As global immigration attorneys, we are constantly tracking the latest shifts in human migration patterns. One trend we've noticed over the past few years is the rise of Afghanistan as a Citizenship By Investment market. Mona and Rebecca explored this lead and uncovered a hidden world of abuse, torture, and mistreatment of Afghan women which has led so many to flee the country in search of better, safer lives.
In this week's episode of EB-5 Investment Voice, Mona and Rebecca are joined by award-winning political journalists, Ramita Navai and Karim Shah. Ramita and Karim recently traveled to Afghanistan to investigate the harsh realities faced by Afghan women at the hands of the Taliban. They met with political activists, prisoners, students, and other women living under the brutal Taliban regime. Last month, their new documentary 'Afghanistan Undercover' premiered on PBS Frontline. Listen below to hear about their experiences in Afghanistan, what they witnessed, and what they hope for the future.
Guest Speakers
Ramita Navai is an Emmy and Robert F. Kennedy award-winning journalist and author. She is known for traveling to hostile environments and has reported on stories including the war in South Sudan, blood diamonds in Zimbabwe, militias in Iraq, and more. Her book "City of Lies: Love, Sex, Death and the Search for Truth in Tehran" was declared a Book of the Year in both the Evening Standard and the Spectator.
Karim Shah is an Emmy award-winning producer and director. He specializes in investigative documentaries captured around the globe and has worked in nearly 40 countries, including Mali and North Korea. He has worked for PBS, Al Jazeera, ITV Channel 4, and has most recently joined the BBC Africa team.