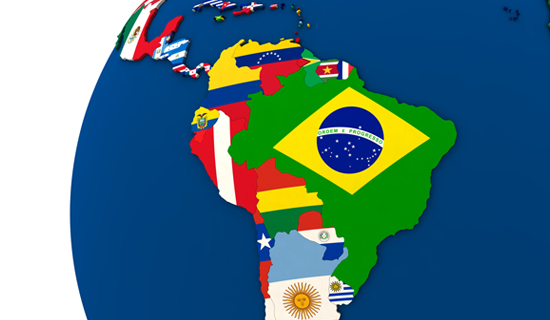 SPOTLIGHT ON THE LATIN AMERICAN MARKET WITH MANUEL ORTIZ OF CIVITAS
EB-5 Investment Voice,
(Mona Shah & Associates Podcast Series)
Reported by Hermione Krumm, Esq.
EB-5 Investment Voice is the only Podcast series that focuses onthe United States immigrant investor visa, EB-5 and foreign direct investment. Mona Shah welcomes guests from the industry including: developers, regional center operatives, attorneys, legislators and politicians.
The EB-5 Investment Voice audience data shows that Mexico comes in at number six, and Brazil is not far behind at number eight. As such, it's time to take a closer look at these emerging markets, and explore the intricacies of EB-5 investors in Latin America.
In this podcast, Mona's guest is Manuel Ortiz, head of EB-5, sales and investor relations for Civitas Capital Group out of Dallas. The two discuss EB-5 in the Latin American market. They address which are the most sought-after projects in the LatAm market, drawing comparison to Chinese investors: how security concerns shape the approach Civitas takes in attracting Latin American investors, and the pros and cons of direct investment deals. Manuel also advises developers on how to work with Latin American clients, in particular, why renting is preferable to setting up your own Regional Center for developers targeting the Latin American market.
The Origin of Civitas Capital Group
The name Civitas is derived from Latin, and its meaning implies a shared responsibility, common purpose, and sense of community. This is an appropriate reflection of the purpose of the EB-5 program.
Civitas was formed in 2008, and it became the official EB-5 administrator for the city of Dallas in 2009. Their first deal launched in 2010, and in the seven years Civitas has been in operation, they have formed 40-plus investment funds and raised $600M in EB-5 capital.
Civitas is unique among Regional Centers because it is also involved in non-EB-5 investments, currently boasting a total of $1.3B in assets under management combining EB-5 and non-EB-5.
Mona contends that most of the regional centers found in early days like 2010 tend to spread out more, not only to non-Chinese investors, but also to non-EB-5 projects.
The Civitas Focus on Market Diversity
Civitas doesn't just concentrate on Latin America or China. While China represents over 80% of EB-5 investment in overall industry stats, Chinese investment comprises about 72% of Civitas' capital.
Civitas has made a conscious effort to deploy resources into emerging markets since 2013, dividing projects on a per-fund basis. Some of their projects do not involve any Chinese investors.
The Most-Sought After Projects in the Latin American Market
Mona and Manual both agree that the Latin American market tend to prefer smaller projects, like 22 investors and $1M raise. Latin American investors also tend to seek out equity deals more than other EB-5 investor markets.
The Importance of Regional Center Location
Latin American investors, specifically those from Mexico and Central America, have a familiarity with Texas markets. Mona further adds that Latin American investors also favor projects in Florida, seeking to invest in the same state where they intend to live.
The Incentive to Immigrate Via EB-5 for Latin American Investors
There are a number of reasons why Latin American investors are interested in coming to the United States. Many Mexican investors cite security as their motivation; South American investors often employ EB-5 for political reasons.
A good number of EB-5 investors are interested in getting EB-5 for their children. As opportunities for young people with student visas to obtain corporate sponsorship and remain in the States after graduation become slimmer, the EB-5 program presents a feasible alternative.
Mona points out that the increasing demand for EB-5 from the Brazilian market. She and Manual both experienced a spike in Brazilian clients three years ago, but saw interest slow down last year due to ongoing issues in Brazil. As property values in Brazil decreased, refinancing became more difficult, and these circumstances likely contributed to the decline in Brazilian investment.
The Civitas Approach to Developing Trust with Latin American Investors
Mona states that marketing in Latin America is different from that in other places. Investors are nervous about going into an event that might generate a lot of publicity. They might send their secretaries or prefer one-on-one meetings. They also tend not to trust third-party agents. Credibility is a huge issue in Latin America because there are really not many credible sources available to find the right investment.
Manual agrees that individual meetings that establish credibility are preferred by Latin American investors, in comparison with mass advertising. For security reasons, wealthy Latin Americans are apprehensive about attending highly publicized events, thus the seminar model that thrives in China does not work well in Latin America.
Timing is another crucial aspect of developing relationships with Latin American investors. In China, a high volume of funds can be raised quickly, especial two or three years ago, whereas in Latin America, the turnaround time is much slower.
To facilitate relationships with Latin American investors, Civitas has a Spanish-speaking staff. They are in process of adding a Portuguese-speaking staff as well, now that Brazilian investors reaching the post-investment stage will need assistance with the immigration process.
Mona points out that developers dealing with Latin American investors need to dig more into the fundamentals, rather than diving into the projects directly.
The Deals Favored by Latin American and Chinese Investors
In Manuel's experience, the vast majority of Latin American investors focus more on equity investments. Historically, the loan model has been more popular in the Chinese market; however, Manuel has seen increased interest in the equity model with Chinese investors in the last seven months as well.
Mona states that in her experience, Latin American investors favor franchise deals. While Civitas has not gotten involved in franchise deals and is more of a lender in in terms of projects, Manual agrees that those projects are extremely popular in the Latin American market. Mona further adds that immigrants fleeing violence in Venezuela and Colombia, for example, need to generate income for their families once they arrive in the United States, and the franchise model allows them to participate directly in the project upon arrival.
The Pros and Cons of Direct Investment
Mona asserts that she must educate Latin American clients to understand that while a $500K investment does cover the minimum required by law, it is not enough to sustain a viable business that fulfills the requirement for ten full-time permanent jobs.
Investing in a Regional Center like Civitas may be more feasible for investors with $500K, as they gain credit for indirect jobs generated by the project, and the firm's non-EB-5 arm provides options for investors as their needs change.
Manuel's Advice for Developers
As regulations around EB-5 evolve, it will become increasingly difficult to set up your own Regional Center. In fact, a fee may be associated with having a Regional Center moving forward with the potential reform in mind.
Establishing your own Regional Center might make sense for setting up large fund, but renting is a more attractive option for the smaller funds and single projects preferred by the Latin American market.
Civitas' Involvement in IIUSA
As an active member of IIUSA, Civitas is heavily involved in the legislation process. Though it is difficult to predict what will happen, there is the potential for the investment amount to increase.
The EB-5 program isn't going anywhere. Manuel predicts a continued movement toward emerging markets, and the lack of infrastructure in Latin American presents both a challenge and an opportunity.
Please see the link below for access to the podcast episode: https://mshahlaw.com/spotlight-on-the-latin-american-market-with-manuel-ortiz-of-civitas/.
About the Author:
Hermione Krumm, Esq. is an associate attorney with Mona Shah & Associates. Hermione works with EB-5, corporate, merger and acquisition (M&A), intellectual property and foreign direct investment (FDI) matters involving China, the UK and the US. Hermione received her LL.B. (Hons) from the University of Manchester School of Law (UK), and obtained her LL.M. from Cornell Law School. Hermione speaks fluent English, Mandarin and Cantonese.
Podcast is a digital radio which the audience can easily stream and download to their computers and mobile devices. The audience can also subscribe to their favorite channels to automatically receive new episodes of their favorite shows. EB-5 Investment Voice is Mona Shah and Associates' series of podcasts devoted to providing insights into the Immigrant Investor Program for foreign investors, domestic fundraisers and enterprising entrepreneurs. Tune in to our latest episodes at https://mshahlaw.com/podcast/!