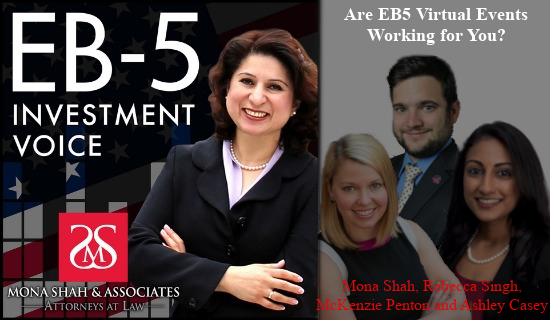 Are EB-5 Virtual Events Working for You? – Episode 126
As domestic and international travel has become increasingly difficult during the pandemic and the situation is likely to remain the same for at least another 12 months, virtual events have replaced the meetings and conferences that once made up a large portion of networking and marketing for the EB-5 industry. These events are crucial for investors, developers and stakeholders alike, not only for staying informed, but more importantly providing a platform for introducing EB-5 projects to potential investors. But do these events truly work for EB-5, as EB-5 investors are unlike any other? On this episode, Mona Shah, Rebecca Singh and Mark are joined by Ashley Casey and McKenzie Penton of IIUSA to discuss whether the needs of the EB-5 industry can be met on an online platform.
Ashley Sanislo Casey joined Invest in the USA (IIUSA) in 2014 as an Advocacy and Research Coordinator. Since then, her role in advocacy evolved into education and professional development, establishing and growing the EB-5 industry's first education program. Ashley also curates the Regional Center Business Journal with the Editorial Committee, manages IIUSA's Freedom of Information Act (FOIA) requests and is the unofficial "Editor in Chief" of IIUSA. Ashley works closely on events to craft dynamic educational programming for attendees. Before IIUSA, Ashley spent time working in public offices at the federal and local levels in the U.S. as well as in the U.K. She also worked in philanthropy for a nationally recognized medical center and more recently in government affairs for health-related membership-based associations. Ashley earned her B.A. in political science and history from DePaul University and a masters degree from the Graduate School of Political Management at The George Washington University.
McKenzie Penton joined Invest in the USA (IIUSA) in 2015 as a Membership Development & Marketing assistant. Since then, his role has expanded to encompass all aspects of membership services, fundraising, event planning and business development opportunities for the association. As the Director of Events and Business Development, McKenzie has driven the success of the association's domestic conferences and was responsible for the launch of the association's first annual Industry Achievement Banquet in 2018 as well as Global Banquet Series events around the globe. McKenzie earned a B.A. in International from the George Washington University. He also completed specialized education in conflict-resolution with a focus on peace building and post-genocide restoration from his studies in Rwanda. Prior to IIUSA McKenzie spent time working for organizations involved in the infrastructure and international trade promotion fields.
---
IIUSA is hosting the 2020 Virtual EB-5 Industry Forum in November. From the comfort of your home or office, safely congregate with other EB-5 professionals for 5 days of panel discussions and speakers addressing the important topics of EB-5 in today's context. The event will be spread across two weeks to accommodate your busy work-life schedule and feature thoughtful, timely and pertinent virtual programming. To view the schedule and purchase tickets to the upcoming event, please visit https://www.eventbrite.com/e/2020-iiusa-virtual-industry-forum-tickets-114446711194