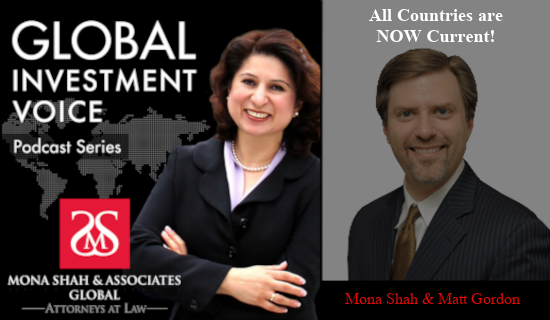 All Countries are NOW Current! – Episode 150
Last week, the EB-5 community was rocked by the news that all countries are now current. This is particularly exciting for China-based and Vietnam-based investors, who were previously stuck in backlogs of 10-15 years and 4-7 years, respectively. In this episode, Mona Shah is joined by Matt Gordon, CEO and founder of E3 Investment Group, as the two discuss this update, what it means for investors, and how they can take advantage of this surprising new development.
Matt Gordon is the Chief Executive Officer and founder of E3iG. Mr. Gordon's career spans business operations, finance and law. Since entering the visa-investment sector, Mr. Gordon has become a noted expert on legal topics related to visa-investment organizational structure and visa-investment policy. He is the editor of the leading legal treatise on the EB-5 program, "The EB-5 Book" and is a frequent writer and lecturer. He has also done policy work at Harvard University's Kennedy School of Government and with the White House. In February 2016, Mr. Gordon testified in front of the House of Representatives Judiciary Committee as a policy expert on EB-5 matters. Mr. Gordon is a licensed attorney in New York.