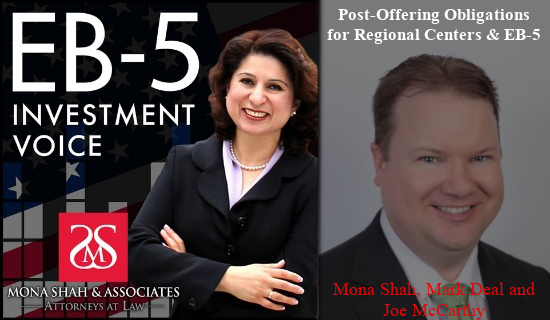 Post-Offering Obligations for Regional Centers & EB-5 Issuers – Episode 125
Once the EB-5 capital raise has completed and all funds have been released from escrow, the Developers can begin the development and operation of the project. However, what obligations do the developers owe to the investors from the time of the initial investment until the completion of the project and return of capital? On this episode, Mona and Mark are joined by Joe McCarthy of American Dream Fund to discuss the rights that investors have and the role that developers play after the offering has closed. Listen in to hear what situations warrant a premature refund of investor capital by the project, which rights investors retain during the 5+ year term of the investment and how the Regional Center provides third-party oversight.
Mr. McCarthy is a co-founder of the American Dream Fund, an operator of multiple EB-5 Regional Centers nationwide, and a former immigration attorney. Mr. McCarthy's primary area of legal expertise is immigration law, including all facets of EB-5 immigration. Through his involvement as a regional center principal, and separately as an immigration attorney, Mr. McCarthy has been involved in EB-5 capital deployment of greater than $850 million (USD) to job-creating enterprises. Mr. McCarthy is a widely recognized speaker about EB-5 immigration law both domestically and in China. He frequently speaks about EB-5 to developers and business professionals, government officials, attorneys, and individuals interested in immigrating through the EB-5 program.
On this episode of EB-5 Investment Voice, Mona, Mark and Joe McCarthy discuss what happens after the EB-5 capital raise is completed and what obligations the project developers owe to the investors over the span of the project. Listen in for insights from EB-5 experts on the rights of the EB-5 investors and the responsibilities of the project after the EB-5 offering has closed.