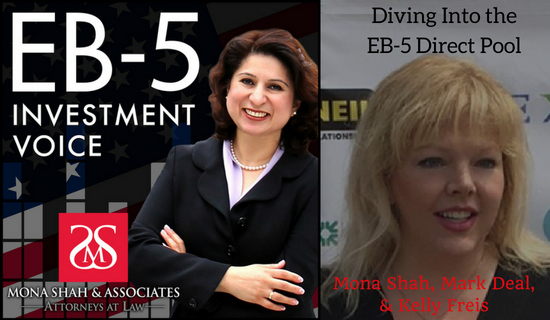 Diving Into the EB-5 Direct Pool with Kelly Freis of International Growth Capital – Episode 65
As the EB-5 investor pool continues to shrink, more and more direct pooled projects make their way into the market. In this episode, Mona and Mark sit down with Kelly Freis to discuss the benefits of investing in a direct project and International Growth Capital's preference for small manufacturing businesses. Listen in for insight on the type of investor who is drawn to direct pooled manufacturing projects and learn how a growing number of candidates are using E-2 as a stepping stone to EB-5.
The number of direct pooled EB-5 projects on the market is rising dramatically. For the savvy investor, this is a positive development. What are the benefits of investing in a smaller, entrepreneurial project? Is it better to invest in a small manufacturing business or restaurant franchising opportunity—as opposed to a big real estate project?
Today, Mona and Mark are joined by Kelly Freis, the founder and CEO of global business consulting firm International Growth Capital. She and her husband Jon also run the EB-5 Hollywood Regional Center, where they connect business owners with new sources of capital and guide investors through the EB-5 process. Kelly has 20 years of experience in international business consulting, 13 of which involve working with direct EB-5. She has an impressive track record of zero visa denials for candidates under her guidance, and Kelly has played a major role in the immigration of over 100 families.
Today, Mona, Mark, and Kelly discuss the increase in direct projects as the EB-5 investor pool shrinks and the benefits of direct pooled projects with regard to transparency and mitigated risk. Kelly explains her affinity for manufacturing projects, offering Coast OEM as a case study in enterprise value and sharing her firm's approach to facilitating an exit for investors. Last but not least, Mona, Mark and Kelly address E-2 as a stepping stone to EB-5, offering insight around the projects International Growth Capital represents, the flexibility of onboarding in E-2, and the potential for a franchise model to grow into an EB-5 project.
The Benefits of Direct Pooled Project
The size and structure of a direct pooled EB-5 project favors investors because of its transparency. The new commercial and job-creating entities are the same, and investors have a direct line of sight to the numbers.
As the investor pool shrinks, these smaller, direct pooled projects are gaining popularity. Direct EB-5 eliminates many of the variables investors fear in larger ventures, and it is easier to add jobs because you are not restricted by an economic report.
Large Real Estate vs. Small Entrepreneurial Projects
International Growth Capital recognized that smaller, entrepreneurial companies have a need for capital that could be filled by way of foreign investment. They developed a proprietary methodology to market their projects in foreign countries where enterprises like manufacturing or restaurant franchising are popular.
Kelly is a fan of manufacturing projects because they generate a balance sheet that correlates directly to the asset being created, and they have an enterprise value—meaning the company can eventually be sold for a multiple. International Growth Capital applies basic real estate principles to manufacturing projects, building a model that facilitates an exit for investors.
The Coast OEM Case Study
One of Kelly's favorite direct pooled success stories is Coast OEM, a company that manufactures sanitary porcelain for toilet bowls, showers, and tile. The business focuses on water-saving and safety devices within a building.
Coast OEM owns its own real estate, so any improvement to its facility increases the value of the project. Jobs can be added to marketing and technical support as well as on the manufacturing line—in multiple shifts.
The Transition from E-2 to EB-5
A number of candidates want to test the waters in the US by way of the E-2 program before making the shift to EB-5. International Growth Capital's current E-2 projects include two medical clinics, a restaurant franchise and a pet care franchise opportunity.
The guidelines of E-2 require that the investor own 50% of the project, but you can employ a turnkey approach to transition to EB-5. For example, a management element might be added to multiple Subway franchises.
Kelly has noticed a dramatic increase in E-2 interest as the program provides a concrete point of entry for foreign investors and serves as a stepping stone to EB-5. E-2 is more flexible from an onboarding perspective, allowing you to build rapport with a particular company or expansion model before making the decision to immigrate to the US permanently.