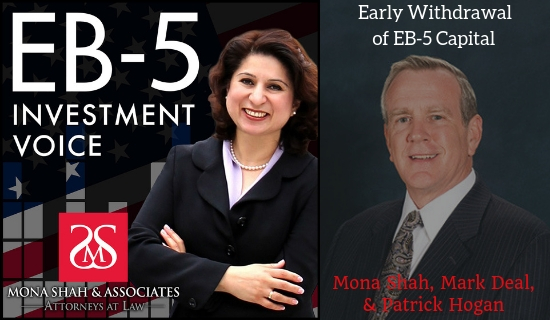 Early Withdrawal of EB-5 Capital with Patrick Hogan – Episode 67
First and foremost, EB-5 is a business, and investors are contractually obligated to keep their money in a project for the long term. Today, Mona and Mark sit down with Patrick Hogan to explain why an EB-5 investor must be both committed to the investment AND at-risk of losing money on the project. Listen in for insight around the long wait times in the China market, the value of vetting a Regional Center's track record, and the consequences of breaking an EB-5 contract.

Once You're In, You're In
Yes, the EB-5 program is an immigration vehicle, but first and foremost, it is a business. Any agreement you sign is a legally binding contract that must follow all statutes and regulations, fulfilling the EB-5 obligation that the investor's money is irrevocably invested in the project. As a result, you cannot simply decide that you want out and demand your money back, as the capital is in use—and returning your investment would risk the entire partnership.
Patrick Hogan is the founder CEO of CMB Regional Centers, one of the oldest active new commercial enterprises in the industry. Patrick has been involved with EB-5 since the program's inception in 1993, collecting nearly $3B in EB-5 funds and $12B in partner funds over the years. CMB runs 15 Regional Centers in total, and the organization has the capacity to operate in 21 states and Washington DC.
In this episode, Mona, Mark, and Patrick discuss the statutes and regulations around withdrawing EB-5 funds, explaining why an investment in the program must be both sustained and at-risk. Patrick shares the narrow set of circumstances under which an investor can get their money back and addresses the importance of carefully scrutinizing a Regional Center's track record and the project's contract before making a commitment. Listen in for Patrick's insight on the long wait for Chinese nationals and learn why returning one investor's money puts all of the project's contributors at risk!
---
The Statutes & Regulations Around Withdrawal
• The regulations state that an EB-5 investment must be 'sustained.' In the past, the earliest that money could be withdrawn from a project was after the I-829 was approved, but a recent USCIS memo allows for withdrawal at the filing stage.
• An investors money must be 'irrevocably invested' in the EB-5 project. USCIS defines an investment as a contribution of capital in exchange for a note, bond or convertible debt obligation.
• The EB-5 program also has an at-risk requirement. The mere intent to invest is not enough. The investor must show an actual commitment of the required amount of capital to the job-creating entity or new commercial enterprise.
The Limited Right to Withdraw
• There are a very few special circumstances under which an investor can get their money back. CMB Regional Center, for example, allows for the limited right to withdraw should USCIS deny an investor's I-526.
• An investor cannot simply decide to quit. Should a Regional Center acquiesce and return an investor's money, that would be considered a redemption agreement—which is against the rules.
• In rare cases, replacement investors are allowed, but only if job creation is still occurring. For instance, when USCIS changed the rules around using loans from non-family members, CMB investors who were denied could be replaced early in the process.
How to Vet an EB-5 Contract
• Although you CAN get your money back at the denial stage, many contracts allow for the capital to go into a project right away. In those cases, the money would NOT be available for return when an I-526 is denied.
• Patrick recommends looking carefully at a project's contract length as well as the track record of the associated Regional Center. The documents will specify how long your money is committed to the project. And understanding how often a Regional Center has been denied and the circumstances around those denials can help you make a judgement about its overall credibility.
Why Your Money is Tied Up
• Backing out on an EB-5 investment means rescinding TWO legal contracts. The investor has a contract with the new commercial enterprise (i.e.: Regional Center), and that NCE likely has an agreement with a third-party contractor.
• In most cases, a contractor is using the investors' funds to move a project forward. The Regional Center is no longer in possession of that money and couldn't pay you back even if they wanted to.
• If a Regional Center did return money to an investor who wanted out, they would be risking the entire partnership. In that case, USCIS can issue an RFE based on an impermissible redemption agreement—which puts all of the project's investors at risk.
The China Market
• Aspiring EB-5 investors in China have a very long wait due to retrogression. In fact, Charlie Oppenheim stated that it would take at least 15 years before a Chinese national would be eligible for a conditional permanent residency if they signed up today.
• As the EB-5 program expands to the rest of the world, the line is only going to get longer. Beware of anyone who is trying to sell you on a project by claiming that the wait times for China are any shorter than 15 years.