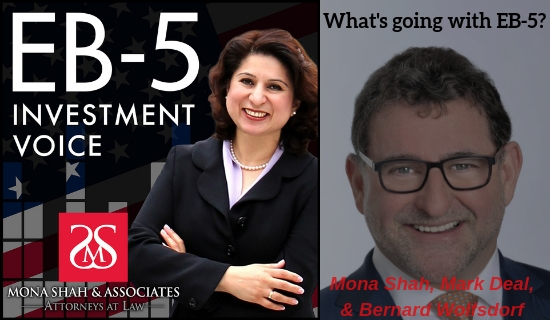 What's going on in EB-5 with Bernard Wolfsdorf – Episode 68
The EB-5 program is experiencing a period of great change. Where can you go for clarification around the new regulations and forthcoming cutoff dates? Today, Mona and Mark sit down with Bernard Wolfsdorf to give us a preview of the upcoming AILA & IIUSA EB-5 Industry Forum. They discuss the key issues that will be covered at the conference, including Final Action Date predictions, the increase in minimum investment for EB-5, and the impact of the latest USCIS policy memorandum.

As the EB-5 program continues to evolve and new regulations emerge, it can be difficult to keep up with the changes. How do you distinguish between speculation and truth when it comes to Final Action Dates? How do you get clarification around the new rules of EB-5?
Bernard Wolfsdorf is the Conference Chairman of the upcoming 2018 EB-5 Industry Forum and past National President of the American Immigration Lawyers Association. He is also Managing Partner of Wolfsdorf Rosenthal, a top immigration law firm with offices in Los Angeles, New York and Shanghai. Bernie was named 2018 Immigration Lawyer of the Year by US News & World Report, he was recognized as one of the Top 25 EB-5 Lawyers by EB-5 Investor Magazine.
Today, Mona, Mark, and Bernie discuss the issues that will be covered at the 2018 EB-5 Industry Forum. Bernie shares the ins and outs of the Visa Bulletin, discussing the countries that currently have waiting lines and those that are likely to receive a Final Action Date in the near future. He also walks us through his Red Card proposal for Indian Nationals and offers clarification around the Child Status Protection Act. Bernie and Mona predict what will happen after the EB-5 sunset date at the end of September and address the expected increase in minimum investment. Listen in to understand the concerns around the latest USCIS policy memorandum and the value of connecting with lawyers, developers and government officials at the 2018 AILA & IIUSA EB-5 Industry Forum.
---
2018 EB-5 Industry Forum
AILA and IIUSA are joining forces on the 2018 EB-5 Industry Forum. The event will take place in Chicago October 29-30.
The 2018 Industry Forum is open to the public, and all of the major industry players will be there. The conference provides an opportunity to network and generate business by connecting with other lawyers and developers.
Newly appointed IPO Chief Sarah Kendall will be delivering a keynote address, and she is likely to shed light on the direction she plans to take the organization. Charlie Oppenheim will also be a featured speaker, and his talk will focus on waiting lines and Final Action Dates.
Clarification Around Final Action Dates
The Visa Bulletin is published once a month, and it offers information on cutoff dates and waiting lines. Currently, China has a Final Action Date of 2014 and Vietnam is stuck in line behind the Chinese quota. India is expected to acquire a cutoff date in the summer of 2019.
Charlie Oppenheim will offer predictions at the EB-5 Industry Forum, discussing Final Action Dates for South Korea, Taiwan, Hong Kong, and Brazil. Remember, Charlie's report will be speculation. Nothing is certain until it's published in the Visa Bulletin.
The Red Card Idea for Indian Nationals
Hundreds of thousands of Indian Nationals are currently stuck in EB-2 and EB-3 waiting lines, and this informed community views EB-5 as a lifeline. For this reason, India is the new hot market for EB-5.
Bernie's idea for a Red Card would allow Indian Nationals to file an adjustment in the US before a Final Action Date is established and apply for an I-485. Five months later, the individual could receive a work or travel permit. (It would no longer matter how long it took to receive a green card.)
The Child Status Protection Act
You only get credit for the time a petition is pending. For example, if a petition is pending for two years, a dependent child is eligible up to the age of 23.
If the Final Action Date does not become current at the time the petition is approved, the clock starts running again and the child may age out. If India ends up with a five- or six-year waiting line, any child over the age of 17 could be in trouble and may have to file as principal.
In Bernie's view, USCIS has been very fair when it comes to offering guidance around the eligibility of dependent children. The government wants to see that an EB-5 investment is irrevocable and binding, and with competent lawyering, it is possible to offer that assurance under the guidelines of UGTM and UTMA.
The 9/30 Sunset Date
When the Sunset Date comes at the end of September, it is very likely that the government will issue another extension of the EB-5 program. (They have extended the program 16 times since 1990.)
Bernie sees two possible scenarios: 1) A short extension lasting only through December that would allow Congress to sneak major immigration legislation through during the lame-duck session, or 2) A one-year extension with new regulations published in December.
Bernie is advising clients to file by December to secure the $500,000 investment opportunity. If you wait until January, regulations are likely to require an additional $1M.
The USCIS Policy Memorandum and Policy Manual
On September 11, the latest USCIS policy memorandum went into effect. It states that adjudicators have the discretion to deny a petition without issuing an RFE or a NOID. Mona and Bernie have concerns that USCIS may issue straight denials on good cases, though it will be possible to challenge unsubstantiated denials in court.
On August 24, 2018, USCIS issued a revised Volume 6 of its Policy Manual, concerning, among others, measuring the geographical areas of a Regional Center and the implications of a Regional Center change or termination.Mona and Bernie are hoping that the Industry Forum will supply clarification on those issues.