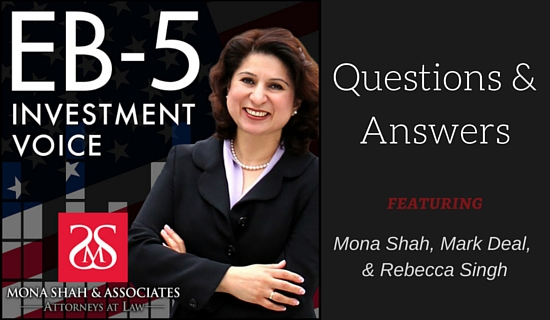 EB5 Questions and Answers – Episode 13
Welcome to the first of what may be many EB-5 on air Questions and Answers sessions.
From developers, fund managers, investors and other attorneys – Questions on the EB-5 program always come in. Attorneys Mona Shah and Rebecca Singh take some time to answer a few.

Here are the questions we covered in this show. Please listen to the show here or subscribe on your mobile player to hear our discussion on the answers.
Who pays back an EB-5 investor in a regional center project?
If I am an EB-5 investor in a regional center project, when can I get my invested money back? Would the developer or the regional center be the one paying me back? Or I will never see this money again?
How do I decide between EB-5 and the Diversity Visa Lottery?
I want to register for the Diversity Visa Lottery and I also want to apply for a green card through EB-5. Can I be registered for both of these U.S. immigration programs at the same time? Which program would I get a visa from first? If so, and I win the lottery, how much money would I lose if I cancelled my EB-5 application?
How can a mentally challenged dependent receive an EB-5 visa?
I have a 26 year old son with Down Syndrome who is dependent on us. Can he be included in my application for EB-5? If not, how would he apply for EB-5 on his own when he does not understand what he is signing?
How can a gift to a U.S. business qualify as an EB-5 investment?
I am a U.S. citizen and my non-U.S. citizen friend wants to pursue an EB-5 visa by investing in my business. I am in the process of forming that business with plans of becoming a franchisee. The franchisor is not keen on this particular way of financing our initial investment and wants owner equity or traditional lending arrangements. My non-U.S. citizen friend would be willing to "gift" this money to my business. Will this type of investment be sufficient for EB-5 visa purposes? Can the investment in a U.S. business be a gift to the business?
When must I enter the United States after getting an EB-5 green card?
I recently got my EB-5 green card, but I am not entirely prepared to live in the United States. Do I have a time limit to enter the United States? If I wait for awhile, will this affect my chances of getting U.S. citizenship later?
When can a house purchase qualify under the EB-5 program?
I have friend in New York who claims that he will be getting a green card within two years because he has purchased a house for around $500,000. I did some research and I found that I can apply for EB-5 while on H1-B and get a green card if I invest around $500,000 and create 10 full-time jobs. But what I found online seems to contradict what my friend told me. Is there any scenario where I could be eligible for EB-5 if I purchase a house?
Who can apply for the EB-5 program?
I am a 68 year old retired doctor from the United Kingdom. My wife and I are considering obtaining U.S. permanent residency, with the goal of eventually getting our citizenship, and we have heard of the EB-5 program as a possible option. We are wondering if there is an age limit for EB-5 eligibility, and if my retirement would disqualify me from applying? Who is allowed to apply for the EB-5 program?
How can I safely choose an EB-5 project before program changes occur?
I saw that legislation might get passed in September to make the EB-5 program safer for investors, but the minimum investment amount is probably going to go up at the same time. I want to make the lower investment, but I am wondering if it is better to instead wait until the program is made safer. How safe is the EB-5 program right now without the changes? How can I safely choose an EB-5 project before program changes are made in September?
How will my EB-5 case be affected by attorney disbarment?
My attorney submitted my I-526 petition in September 2014. My EB-5 case is to join and personally manage a franchise restaurant. At that time my attorney had legal practice status. Just now I found out that he is no longer eligible to practice law. How will my EB-5 case be affected? Will USCIS open my case (it is still in Received status), read that my lawyer has been disbarred, and then deny my case automatically?
How can an investor still apply for EB-5 without source of funds documents?
I purchased my home over 10 years ago. I want to get a mortgage loan and use it for an EB-5 investment in a regional center. Am I required to prove how I purchased the house more than a decade ago? I'm not sure I have the documents to prove this. What would I need to prove the EB-5 source of funds in this case? What are my options if I don't have such documentation?