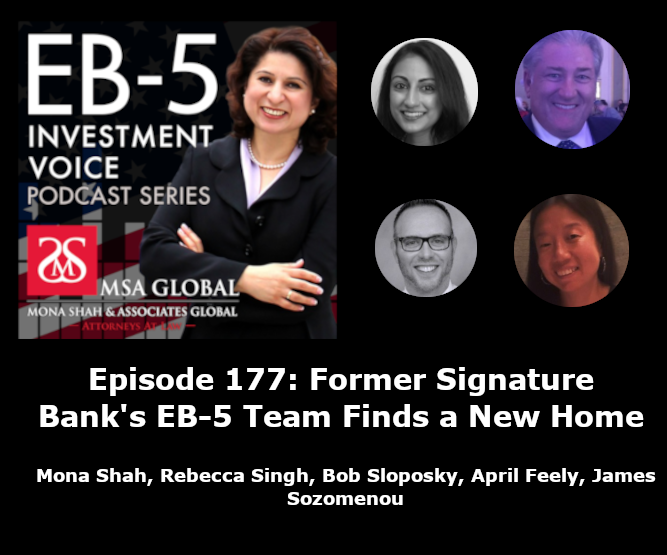 Episode 177: Former Signature Bank's EB-5 Team Finds a New Home
This week, Mona and Rebecca sat down with Bob Sloposky, April Feely, and James Sozomenou to discuss what other banking options may be available to the EB-5 industry now that Signature Bank is no more, including the entrepreneurial bank, Metropolitan Commercial.
Bob: Not only are they very strong financially, they're diversified. They do not deal at all in anything that touches crypto.
James: Our goal is to not be a hindrance at all. The quicker we can get it back to you, the more positive the experience.
April: We accept funds from all of those countries and that we run due diligence on everybody that sends money into the bank.
---
Bob Sloposky is a 14-year veteran of the EB-5 industry and senior vice president of Metropolitan Commercial Bank. April Feely is a banking expert and Director of MCB's EB-5 group, with experience in EB-5 due diligence, and James Sozomenou is also a Director of the EB-5 group, and is banking specialist with expertise in reading and interpreting PPMs.
Bob Sloposky, April Feely, and James Sozomenou put their trust and careers in the hands of the unknown when they left the security of Signature Bank to join the team at Metropolitan Commercial Bank. Through careful research and analysis of the bank's balance sheet and their commitment to the EB-5 industry, they were able to make a safe, reliable home for their clients. Despite the seven offers made to them, the team decided to stay together and take the risk to pursue a safe haven for the EB-5 client, a risk that paid off in the end.