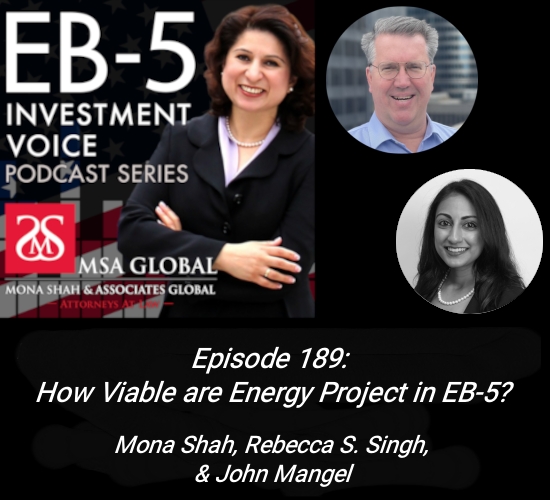 Episode 189: Viability of Rural EB-5 Solar Projects
Renewable Rewards: Exploring the Lucrative Benefits of Investing in Rural Solar Projects
"There's always going to be a need for power, making the solar energy industry a great space to be in. It's a simple construction process and you don't have to worry about finding new buyers for electricity like in other industries." – John Mangel
---
Guest Speaker
John Mangel, the founder and CEO of Phoenix Development Partners, is a true force in the world of renewable energy. With a wealth of experience in commercial real estate and a passion for going green, John has made a significant impact in the solar industry. Not only has he invested his own personal funds into solar projects, but he has also become an expert in identifying hidden and untapped value within the industry. John's dedication to sustainability and his belief in the future of renewable energy make him a beacon for foreign investors seeking secure and lucrative opportunities. As we delve into the topic of rural solar projects in the EB-5 industry, John's insights and expertise will shed light on the viability and potential of these investments. Get ready to be inspired by John's vision for a greener future and the opportunities it presents for investors.
---
The EB-5 industry continues to feel the effects of living in a post-RIA world in which one of the biggest impacts has been the learning curve of full utilization of the visa set-aside categories.
In today's podcast episode, EB-5 Investment Voice delves further into one of the three visa set-aside categories – the rural category – and what it takes to have a successful project within it.
Our EB-5 experts, Mona Shah and Rebecca Singh explore the viability and profitability of rural solar energy projects within the EB-5 context with special guest John Mangel, founder and CEO of Phoenix Development Partners. With over three decades of experience in commercial real estate and a passion for renewable energy, his expertise and knowledge make him a trusted voice within the solar industry.
With EB-5 processing continuing to take four-plus years for full adjudication, investors are growing more frustrated and wearier. Since the creation of the visa set-aside categories, the high-unemployment category has been the primary focus for most projects given the prevalence of high-unemployment designated locations in major cities based on Covid data from the past three years. But as such data reverts back to pre-pandemic statistics, there has been a renewed focus on the rural category. With the first set of rural EB-5 applications being processed in record speed, it is giving investors a new sense of hope and projects are taking note.
Increased marketing for rural projects means there's more rural projects than ever to choose from – but how is a potential EB-5 investor to choose the best amongst them all?
Join us in this latest exciting episode as our experts and special guest cover the untapped possibilities of rural solar projects, from security, sustainability, and long-term financial benefits as well as any potential pitfalls!
---
---
Some highlights from the episode:
Mona: "It's always been the case that the viability of the urban has overtaken the viability of the rural. But energy is a little different."
---
Mona: "What really makes a difference for investors wanting to leave a project early or just wanting their money at all is cash flow. And here, if you have tax credits, you have more cash flow."
John: "The cash flow from solar is unique and special [. . .] You've got a very secure cash flow stream, with the question always do you have good clean cash flow stream? And the answer here is yes."
---
John: "These contracts go from five to 25 years. So it's like having a Walgreens or JP Morgan Chase as your tenant, paying you cash flow every year going forward."
---
Rebecca: "We're talking about countercyclical projects [. . .] maybe solar energy is going to be up there next."
---
John: "How is it as a job creator? Excellent. It's an excellent creator. The indirect induced jobs are tremendous. Everybody needs electricity."
---
Mona: "What are the chances or the likelihood of the industry being taken over by a foreign country, say, like China, because China really had the monopoly on solar for so long?"
John: "So China has a monopoly on panel creation. And so this is one of the issues [. . .] we could have a risk where we don't have the panels to install and build the farm. There could be a backlog of getting the panels."
---
Rebecca: "Mindsets are changing to solar energy, being dependent on ourselves. I think this is it."