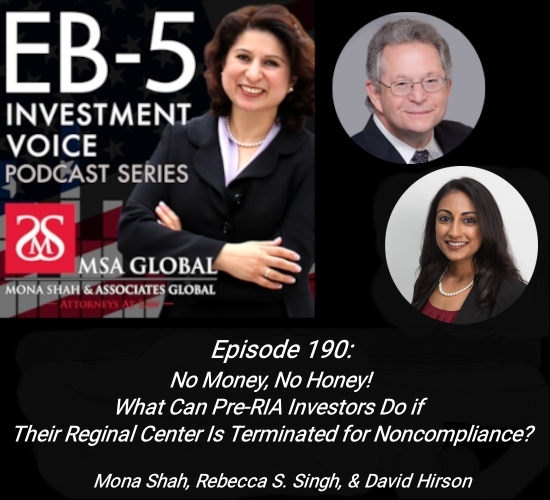 Episode 190: No Money No Honey! What Can Pre-RIA Investors Do if Their RC is Terminated for Lack of Compliance?
Episode 190
USCIS embraces deference , but never acts on it. It's a fact of life. They will find every reason possible not to exercise deference. And that's the experience we're having now. – David Hirson
---
Guest Speaker:
David Hirson, Esq., a pioneer in the EB-5 industry who was one of the first practitioners to file an EB-5 petition, serves as Co-Founder of Gravitas and Managing Partner of full-service immigration law firm David Hirson & Partners, LLP. During his illustrious four-decade career, Hirson has helped innumerable companies and individual investors manage their immigration accounts while advising on regional center applications and individual Green Card applications for investors under the EB-5 Investor Visa category. A "destination attorney" who has been retained by many high-net-worth individuals for the immigration-related aspects of their investments, Hirson also has assisted companies with start-up expansion, mergers and acquisitions relating to immigration law, compliance, and case processing, as well as applied for multiple regional centers to be designated and approved by USCIS. The recipient of awards ranging from the International Who's Who of Business Lawyers (Corporate Immigration) to Southern California Super Lawyers, America's Best Lawyers, Best Immigration Lawyers in United States by Best of the U.S., annually from 2006-2014, Hirson is one of the most sought-after lawyers in the EB-5 space. Hirson, who has authored various articles for outlets such as EB5 Investors Magazine, also has impressive speaking credentials, having lectured to bar associations, human resources associations, chambers of commerce, trade organizations, and other entities in the United States and abroad. He is a member of various prominent associations and organizations, including the American Immigration Lawyers Association ("AILA") and the American Bar Association, and he has served as Chapter Chair of the Southern California Chapter of AILA, among other roles.
---
Living in the post-EB-5 Reform and Integrity Act of 2022 ("RIA") universe is tough enough, but being a pre-RIA investor may present a host of additional challenges—including decisions pertaining to the EB-5 Integrity Fund (the "Integrity Fund") and regional centers that do not pay up following USCIS's recent notice that any regional center who has not paid the Integrity fund fee would be terminated forthwith.
In today's podcast episode, EB-5 Investment Voice takes a deep dive into the potential hole U.S. Citizenship and Immigration Services ("USCIS") has dug for pre-RIA investors, who may have to contend with the agency terminating previously designated regional centers for noncompliance with the RIA. The agency has demonstrated that it is looking closely at mandates to contribute annually to the Integrity Fund, but this may present challenges for regional centers that do not have any active projects. That could deleteriously impact EB-5 investors, especially those who have been waiting for years—before the RIA was ratified in March 2022—to become permanent residents in the United States, as such USCIS investigations could result in Requests for Evidence ("RFEs,") Notices of Intent to Deny ("NOIDs") or even outright denials.
Then there is the question of how much to contribute to the Integrity Fund. For regional centers with more than 20 investors, the payment is $20,000, while regional centers with 20 or fewer investors must pay $10,000. But what if the addition of an investor puts a regional center over the top, or the subtraction of one does the opposite? In short: Who is responsible for what?
Those and other questions are tackled in our latest episode, as our experts and special guest probe into the nuances of USCIS's thinking, the continuing failures of the agency to provide clarity, and—perhaps surprisingly—some positives that potentially could elicit greater efficiencies.
---
---
Some highlights from the episode:
David: Yes, well, we've been advising clients that they need to pay, and several did some catch up payments and all of our regional center clients, even if they're not adding further investors, are paying this annual amount.
---
Mona: We are discovering in the new post-RIA world that affiliating with new regional centers is pretty tough.
David: Yeah, the new regional centers … are very concerned about the liability that is now flowing from RIA.
---
Mona: USCIS keeps repeating they want to interpret REIA in a manner that permits good faith investors to retain their eligibility. And I suppose the priority date is part of the eligibility.
---
Rebecca: What [USCIS] should do is maybe spend some of these funds to educate their adjudicators or those who are out in the field.
---
Mona: What if a regional center decides to pay early, and they pay for 10 investors, and then maybe the 29th of December, they suddenly have another … which puts them over the 10-investor mark, and they've underpaid. Is that what USCIS is talking about with late fees, or is there going to be a reimbursement?
David: I think the answer is late fees are the same as if you pay a bank late. However, the date of December 31st is not a controlling date. The date is 30th of September. That's when you count the number of investors in.
---
Rebecca: We've been doing this for so long, and we've seen some discussion on material changes. Hopefully we'll know what we can interfile from what we cannot.
---
David: This has certainly given us some enlightenment. It's answered a lot of questions and left some unanswered, and we just have to muddle through until we get answers to everything.