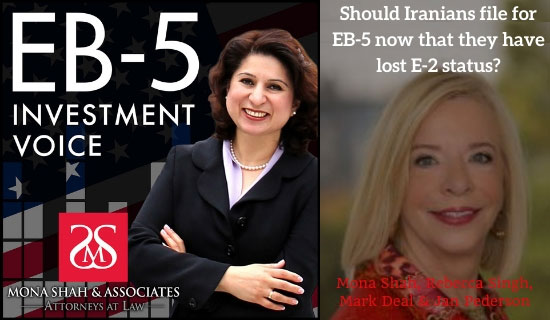 JAN PEDERSON DISCUSES IF IRANIANS SHOULD FILE FOR EB-5 NOW THAT THEY HAVE LOST E-2 STATUS – EPISODE 100
On January 2, 2020, President Trump unilaterally terminated the Treaty of Amity between the US and Iran. On this episode, Mona, Mark, and Rebecca are joined by Jan Pederson to discuss what that means for Iranian nationals with E-2 investor visas. Listen in to understand the process of obtaining a travel ban waiver and learn how Iranian immigrant investors might leverage the EB-5 program as an alternate means of securing a visa.
On January 2, 2020, President Trump terminated the Treaty of Amity between the US and Iran, an agreement that had been in effect since 1955. What does that mean for Iranian nationals with an E-2 investor visa? And is EB-5 a feasible option for Iranians who want to remain in or immigrate to the US?
Jan Pederson is a Senior Attorney with Maggio Kattar Nahajzer + Alexander and internationally-recognized speaker on the EB-5 program. Jan has 30-plus years of experience practicing immigration law in the US, Italy and France, and she was selected as a Leading Lawyer in Washington, DC, by The Washington Post. On this episode of EB-5 Investment Voice, Jan joins Mona, Mark and Rebecca to discuss the termination of the E-1 and E-2 investor visa for Iranians.
Jan shares the list of travel ban countries and explains who is exempt from the ban, including certain student visa holders and individuals with dual citizenship. She also walks us through the process of obtaining a travel ban waiver, discussing how she supports clients in marshalling political support from the area where they are investing. Listen in for Jan's insight on the implications of terminating the Treaty of Amity and learn whether EB-5 is a viable option for Iranian investors.
---
A History of E-1 and E-2 for Iran
The Treaty of Amity between the US and Iran was signed in August 1955 and ratified by the Senate. It afforded Iranians the ability to file for E-1 and E-2 investor visas.
This agreement was terminated by President Trump in January 2020. This is highly unusual, and there are questions around whether a president has the right to take such action without Senate approval.
As a result, the State Department can no longer issue E-1 or E-2 visas to Iranian nationals. This is particularly problematic for Iranians with current investments in the US.
Travel Ban Countries
Travel Ban 3.0 went into effect in December 2017. It includes citizens from the countries of Iran, Libya, North Korea, Syria, Somalia, Venezuela, and Yemen.
Six additional countries were added to the travel ban as of February 21, 2020. They include Eritrea, Kyrgyzstan, Nigeria, Myanmar, Sudan, and Tanzania.
Exemptions to the Travel Ban for Students
The travel ban applies to all immigrants and non-immigrants EXCEPT F-1 students, M vocational students and J-1 exchange visitors. Be aware that while these visa holders are exempt from the ban, they still require security advisory options and will be delayed at the consulate.
Applicants from travel ban countries who qualify for student exemptions can still be denied entry to the US should the consular officer determine that they are unlikely to return to their home country upon the completion of their visit.
Other Exemptions to the Travel Ban
If the applicant was in the US on September 24, 2017, the travel ban doesn't apply—even if they have left the US. Any Iranian citizen who had a valid visa as of September 24, 2017, is also exempt.
Anyone whose visa was revoked or canceled as a result of earlier presidential orders during 2017 is exempt from the ban, as is any Iranian passport holder who is a permanent resident of the US.
Any Iranian national who was admitted to or paroled into the US after September 24, 2017, is exempt from the travel ban, as is any Iranian national holding a document other than a visa (i.e.: advanced parole or humanitarian parole travel document).
The Benefits of Dual Citizenship
Iranians with dual citizenship are exempt from the travel ban as long as they use their passport from the non-designated country. This has led to an increase in interest in citizenship by investment in countries like Turkey, where Iranians can obtain a passport within three to four months.
It doesn't matter when an applicant may have obtained their passport from a non-designated country. As long as they have dual citizenship, they are not subject to the travel ban.
Obtaining a Travel Ban Waiver
Iranian immigrant investors who have been approved and are currently going through the consulate process can apply for a travel ban waiver. Jan suggests bringing the application package to the attention of the State Department at the earliest possible moment.
Jan also has her clients complete Form DS-5535. It asks for detailed information regarding the applicant's residence, employers and travel for the last 15 years.
Applicants face the burden of proving their eligibility for the waiver. They must either prove undue hardship and/or demonstrate that their entry to the US is in the national interest (and that they pose no threat to national security or public safety).
Making a Case for the National Interest
Jan requests the direct assistance of the Regional Center in marshaling political support for clients in the project's location. She asks for letters of support detailing how the immigrant investor is helping the community either recover or improve its economy.
If the investor's project does not involve a Regional Center, Jan recommends reaching out to the mayor of the town where the investment is being made as well as the area's state and federal representatives and local economic development authority.
Travel Ban Waiver Success Rates
Jan has had a high success rate in obtaining travel ban waivers for her clients, though it is hard to tell what factors matter most. She believes that the economic argument (both micro and macro) is the strongest.
According to anecdotal evidence among attorneys who do consular processing, the further the applicant is from Iran, the better their chances of securing a travel ban waiver. If possible, Jan recommends that clients with means go to a post in Canada or Western Europe.
The Impact of Terminating E-1 & E-2
No extension or change of status will be granted for any Iranian E-1 or E-2 status holder in the US. Moreover, if an application for an extension or change of status was filed on or after October 3, 2018, a notice of intent to deny will be issued.
The notice of intent to deny differs from an RFE in that the applicant has only 30 days to find an alternative method of maintaining status in the US. We are seeing approvals for Iranian nationals in the EB-5 context, but keep in mind that it can take as long as two years to work through the process, and the applicant would have to find an alternative status or leave the country during that time.
The good news is, USCIS recently announced that they are prioritizing the adjudication of I-526 applications. This means we can expect a more expeditious adjudication of both pending and new EB-5 applications.