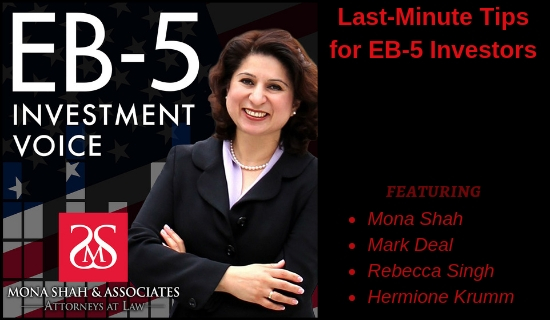 Last-Minute Tips for EB-5 Investors – Episode 88
What should EB-5 investors be looking for in a last-minute project? On this episode, Mona and Mark are joined by MSA attorneys Rebecca Singh and Hermione Krumm to explain the importance of track record, project location and proper oversight. Listen in for insight on how to avoid skeletal filings and learn what makes for a compliant operating agreement.
As the November 21 deadline looms closer, EB-5 investors are finding that supply is running out. By the time their source of funds is ready, the investor's first, second and even third choice projects have filled up! But it's not time to panic yet. There are still plenty of good projects out there. So, what should an EB-5 investor be looking for as they choose a last-minute project?
On this episode of EB-5 Investment Voice, Mona and Mark sit down with MSA lawyers Rebecca Singh and Hermione Krumm to share tips for last-minute EB-5 investors looking to get in prior to the November deadline. They explain why it's not necessary to find a project with an exemplar petition and discuss what to look for in terms of the project manager's track record and the project location.
The MSA team weighs in on the importance of the capital stack for real estate projects, the issue of oversight in the case of redeployment, and the characteristics of a proper escrow agent. Listen in for insight around the danger of submitting skeletal offering documents and learn what USCIS is looking for in an EB-5-compliant operating agreement.
---
Skeletal Offerings
As the November 21st deadline looms, offering documents that normally take months to put together are being thrown together in a couple of weeks. Investors must be careful that their project's documents are complete and that in the case of real estate projects, a lease or deed has been secured.
Whether a private placement memorandum (PPM) is absolutely necessary is up for debate, but Mona and Hermione argue that it's dangerous to go without. A PPM provides disclosure for the investors and protection for the developers, and even if the project is only raising money from friends and family, a PPM ensures that investors are making informed decisions.
Exemplar Petitions
Exemplar petitions demonstrate preapproval of a project. However, investors looking to get into EB-5 prior to the November deadline need NOT limit themselves to projects with an exemplar petition.
It is currently taking more than two years for exemplar petitions to gain approval, and in many cases the actual filing is getting approved first. In addition, some projects are still receiving RFEs and NOIDs despite having secured an exemplar petition.
Track Record
Last-minute EB-5 investors should be looking at the project manager's previous experience in the industry. USCIS is really digging into track record and questioning indirect qualifications.
Real estate investors lacking property management experience are likely to be flagged by USCIS. Senior housing is another example of a highly specialized sector that requires direct experience in the space.
Location
Another serious consideration for last-minute EB-5 investors is the project location. Remember that TEA designations are only good for one year and must be renewed annually. Projects using expired TEA rules are very dangerous investments.
Location is also important to the viability of a project. A condo in Kansas City may have a more difficult time generating cashflow than a condo in New Jersey because of the difference in population density.
Capital Stack
EB-5 investors should also consider the capital stack, especially in the case of real estate projects. If a project hasn't begun and has yet to secure its starting permits, it is a very risky proposition. (Remember that if the project does not get built, you will not get your green card.)
In lieu of starting permits, a letter of intent is better than nothing. But be very cautious about investing in projects that have not secured senior financing at this stage in the game.
Oversight
When the manager of the new commercial enterprise (NCE) and the job creating enterprise (JCE) are the same person, that brings about a conflict of interest. And yet, projects like this are getting through.
Oversight becomes an issue in the case of redeployment. EB-5 investors should examine the offering documents to be certain they have a say in where their money is redeployed.
Operating Agreement
USCIS is heavily scrutinizing operating agreements of late. They are looking for any discrepancies or provisions that can be interpreted as a redemption.
Do not think you can simply copy and paste an operating agreement you find online, as it is unlikely to be EB-5 compliant. And be sure your attorney is experienced in EB-5 and familiar with corporate documents.
Private Equity vs. EB-5
Corporate attorneys drafting an EB-5 deal also need to keep in mind that the ROI is not just monetary. The immigration benefit is a big part of the investor's return.
Escrow Agents
A proper escrow agent won't release the full amount of money. In addition, they must be at arm's-length, meaning they cannot have any relationship to the petitioner, the NCE or the JCE. If you use a financial institution as the escrow agent, be sure that they fully understand EB-5.
The escrow account must show that the EB-5 capital is immediately and irrevocably committed to the NCE. In other words, if you don't raise the rest of the capital, you don't get your money back.