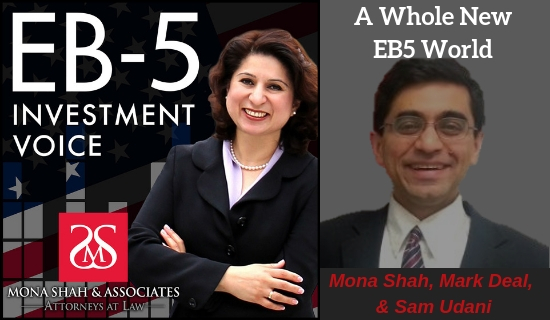 A Whole New EB-5 World with Sam Udani of ILW Immigration Daily – Episode 87
We can all agree that the landscape of EB-5 will look a lot different after November 21st. On this episode, Mona and Mark are joined by Sam Udani to discuss his vision of the post-reg EB-5 world. Listen in for Sam's take on pending EB-5 legislation and the changing profile of projects and investors in light of the new regs.
When the new regulations take effect in November, the world of EB-5 will change dramatically. Sam Udani recently published a controversial article around his vision of this new world. But before you argue with Sam's perspective, know that he has spent the last 22 years cultivating relationships with insider sources and his previous predictions have been remarkably accurate.
Sam is the founder and publisher of ILW Immigration Daily, an online newspaper dedicated to immigration law. Founded in 1999, ILW produces thousands of articles every year for its 35K-plus subscribers, and the organization's marketing arm has hosted 300 events in 14 countries over the last seven years. On this episode of EB-5 Investment Voice, Sam joins Mona and Mark to explain the accuracy of his predictions around the new regulations and discuss his recent article, "A Whole New EB-5 World."
Sam shares his take on the pending legislation, explaining why he is skeptical about the compromise bill and how Senator Grassley's proposal will impact entrepreneurial projects. He weighs in on the changing role of large urban developers in the new world of EB-5 and the likely domination of rural projects after November 21st. Listen in to understand how the increase in denials might influence the backlog crisis and learn what the new EB-5 investor will look like once the new regs go into effect.
---
Sam's Accurate Predictions on the Regs
Sam accurately predicted that the regulations would come in. He also anticipated that President Trump would ultimately support EB-5 because the program benefits the constituents who voted for him.
Sam gleaned this insight because Stephen Miller was pushing all immigration agencies toward significant regulatory change. In addition, the acting USCIS director believes that the regulations will help Trump politically.
Mona and Sam's Take on the Pending Legislation
Sponsored by Senator Lindsey Graham, the 'compromise bill' is the product of many years of work done by EB-5 stakeholders, but Sam believes that the rural interests who previously consented to the bill may change their minds now that the regs have been published. If the bill ever does become law, it will take at least two to three years.
The second bill was submitted by Senator Chuck Grassley, and it deals with project integrity. The majority of EB-5 stakeholders agree with the sentiment behind the bill, but the cost of compliance is so high that it may eliminate individual entrepreneurial projects sponsored by a Regional Center.
The Changing Role of Large Urban Developers
Sam contends that large urban development projects requiring a minimum investment of $1.8M will be dead in the water. This means that large urban developers who dominated the market for the last five years will exit the primary market.
Mona and Sam both agree that large urban developers will continue to be active in the secondary EB-5 markets. Regional Centers will keep their doors open 1) to represent investors in ongoing projects, and 2) to redeploy funds for those Chinese, Indian and Vietnamese investors in backlog.
The Changing Profile of Projects & Investors
Previously, EB-5 investors favored projects in metropolitan statistical areas like Miami, New York, and Los Angeles. But until USCIS issues a policy memo clarifying TEA designations, Sam believes that rural projects will dominate.
A minimum investment of $900K means that EB-5 investors will change. The new EB-5 investor will have a different wealth profile and a different appetite for risk. They may also come from countries like Brazil and Korea.
How USCIS Denials Inform the Backlog
A number of EB-5 cases are denied because inexperienced attorneys fail to get their clients' source of funds documents in order. The majority of those cases would have been approved with better preparation and/or counsel.
In the past, 89% of EB-5 applications were approved. Today, the approval rate has dropped to less than 60%. This shift is likely to influence if not ease the visa backlog.
Sam's Vision of the Future of EB-5
Sam is confident that the EB-5 program will continue to exist after November 21st. Foreign investors will continue to create jobs in the US and get their green cards.
Future EB-5 projects will require fewer investors, and those projects will be more geographically dispersed. The changes to EB-5 will also attract a new kind of investor, and Sam predicts we will see HNWI from new countries (perhaps Thailand and Turkey) enter the program.