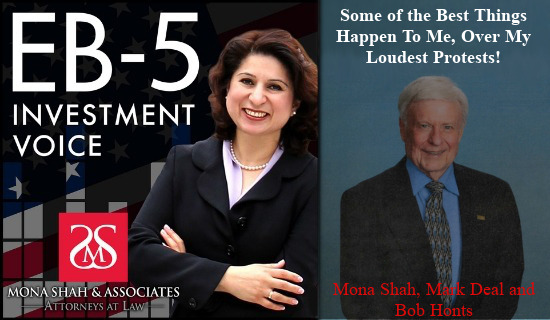 Some of the Best Things Happen to Me, Over My Loudest Protests! – Episode 124
In the midst of a global pandemic and a contentious presidential election, there is a unique opportunity to garner attention from Congress and emphasize the value that the EB-5 Program can offer the U.S. economy. On this episode, Mona and Mark are joined by Bob Honts to discuss how the EB-5 Program provides foreign direct investment and job creation across the country, and how allies on both sides of the political aisle are poised to provide support to the Program. USCIS, through increasing backlogs and lengthy adjudication times, has been stifling the program and making it more difficult for investors to receive their green cards. However, with additional support from Congress, the EB-5 Program can flourish and provide support to the economy where it is most needed.
Bob is the owner and manager of Texas Lonestar Enterprises, LLC and Rocky Mountain High Properties and Investments, LLC, both distinguished EB-5 regional centers that cover the states of Texas and Colorado. He has also served as Treasurer of IIUSA and during his tenure there, worked with policy makers and lobbyists to enact changes in the EB-5 Program that helped quadruple EB-5 fundraising. Listen in to hear how Bob and Mona see opportunities in the midst of the current political climate and how the EB-5 Program can provide much-needed support to the U.S. economy.