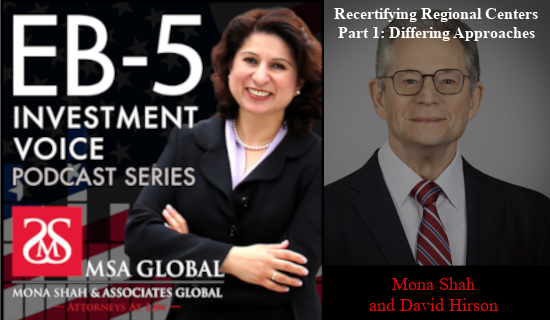 Recertifying Regional Centers Part 1: Differing Approaches – Episode 160
USCIS sent the EB-5 community into a tizzy when they announced that all Regional Centers would need to be recertified. To make matters more confusing, they have provided vague guidance on the redesignation process – leaving many developers and attorneys uncertain about how the RC program is operating. In episode 1 of EB-5 Investment Voice's new series, "Recertifying Regional Centers," Mona Shah sits down with David Hirson (David Hirson & Partners, LLP) to discuss a myriad of topics, from the new Form I-956, how much information is required, what the timeline for recertification is, and more. Listen below to this deep dive of Recertifying Regional Centers.
Guest Speaker
David Hirson is the partner, chairman, and founder of David Hirson & Partners, LLP. He has nearly 40 years of experience in the practice of immigration law. His focus is on EB-5 investment immigration law. He has been certified as a Specialist in Immigration and Nationality Law by the State Bar of California, Board of Legal Specialization continuously since 1990. David Hirson & Partners, LLP offers national and international clients nearly 40 years of experience in immigration law. Their practice provides a full range of legal services with a strong focus in the areas of business, investment and family immigration as well as immigration litigation. David Hirson is nationally recognized for his professional leadership role in immigration law on the West Coast, across the United States and around the world.