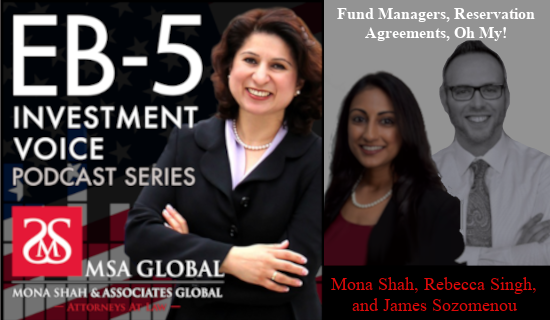 Fund Managers, Reservation Agreements, Oh My! – Episode 159
The EB-5 Reform and Integrity Act ("RIA") brought about a host of new changes to the EB-5 program, and with that, new uncertainties. In this episode, Mona and Rebecca give advice to investors looking to invest in post-RIA projects, as well as developers seeking to retain investors while many kinks of the EB-5 program have yet to be ironed out. Mona and Rebecca are joined by James Sozomenou (Signature Bank) to discuss the importance of various financial elements – from reservation agreements to fund administrators – to ensure a solid, secure project.
Guest Speaker
James Sozomenou, Relationship Manager at Signature Bank
James M. Sozomenou is a Relationship Manager at Signature Bank in the NYC area. James joined the bank in 2017 as a member of a commercial banking team and since his arrival has overseen the EB-5 activity for the Group. Prior to joining Signature Bank, James spent a number of years as an Investment Advisor working with young families and businesses. Prior to that James was the Director of Sales and Business Development for a large internet services company where he dealt with complex hardware infrastructure build-outs for top tier web designers. Today, James maintains a large focus of his daily practice to the EB-5 marketplace and community.